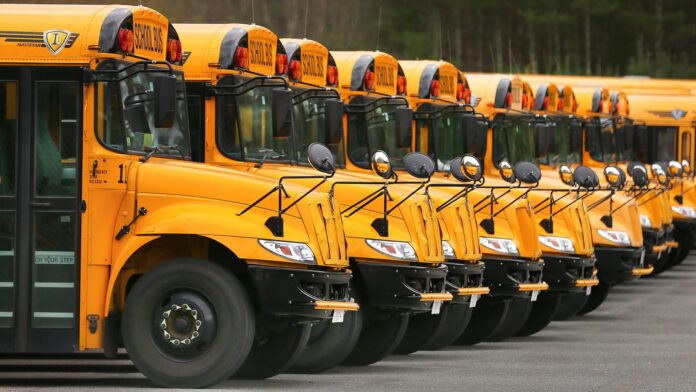 The Senate Standing Committee on climate change on Thursday counseled converting public transport for educational institutions into electric vehicles (EV). Members of the board learned at a briefing from the Ministry of climate change that transport emissions contributed 43 percent of air pollution.
The conference was headed by senator Seeme Ezdi, which discussed in detail the dreadful situation of air pollution, air quality monitoring means, and preventative actions taken by the Ministry of climate change to enhance air quality. The committee was briefed on the general environmental situation in the country. The secretary of climate change and EPA DG told the members that the main contributors to the air pollution were industrial units, automobiles, and brick kilns.
Electric Vehicles for Educational Institutions Transport Will Reduce Air Pollution 
For the eradication of air pollution, different steps have been taken. The committee was told that in the federal capital out of 63 brick kilns, 20 had established pollution management technology. The committee was informed that 43 percent of air pollution was generated by transport emission and on the Islamabad expressway alone almost 400,000 vehicles moved daily.
Read more: Xiaomi is Acquiring New Ventures to Support the Mass Production of Electric Vehicles
These issues have spurred the government to take strict actions, which included its commitment of conversion of 30 percent of all transport to cleaner and greener electric vehicles. The Committee further stressed the requirement for developing enabling setting for switching to EVs by incentivizing users and also unanimously advised that vehicles of the educational institutions should be converted to electric vehicles.
Karachi is Facing the Worst Air Pollution Drawback
Senator Taj Haider informed the council that presently Karachi was encountering the worst pollution drawback. He said that the main focus should be on how to recycle the pollutants along with converting educational institutions. He also stressed that there should be a mechanism for plastic recycling.
Senator Faisal Javed said the prime minister took the challenge of the environmental issues of Pakistan and did an incredible job which was being admired by the international community. He added that in this respect lot of projects had been initiated, which included a billion trees, construction of dams in ten years, urban forest in Lahore.
Source: TechJuice