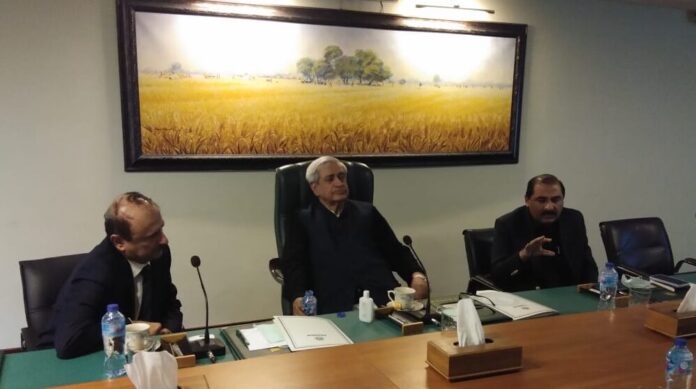 Pakistan's Federal Minister National Food Security & Research, Syed Fakhar Imam, visited Punjab Information Technology Board (PITB) to discuss the new Federal Food Security Portal (FSP). The portal will enable the importers and exporters to register themselves and begin their import or export requests without visiting the field offices of the ministry for the submission of applications.
PITB Briefs About the New Federal Food Security Portal (FSP) to the Federal Food Minister 
Moreover, the Federal Minister of Food Security visited along with Secretary National Food Security and Research, Tahir Khursheed, Director General, Muhammad Tariq Khan, and Director Technical from National Food Security, Shahid Abdullah. The Federal Food Security Portal was introduced by Chairman PITB, Azfar Manzoor, and DG IT Operations, Faisal Yousaf, along with the team.
Read more: Ministry of Health Launches Online Portal to Facilitate Attestation for Medical Workers
Now Importers and Exporters Can Easily Register Themselves Using the New Portal
A comprehensive demonstration of the Federal Food Security Portal (FSP) was presented to all the officials present in the meeting, describing how it will allow the importers and exporters to register themselves without any further hassles. In addition to this, the authorized individuals will utilize the mobile application of the latest system at the entry/exit points for the assessment of items that are in the process of being exported or imported, whereas the importer/exporter will receive a Phytosanitary Certificate on the spot.
In general, the new FSP system will help the government of Pakistan in gathering first-hand information and making timely decisions on import and export guidelines. The department will further be able to use this system as a field officer performance monitoring tool.
Source: Pro Pakistani