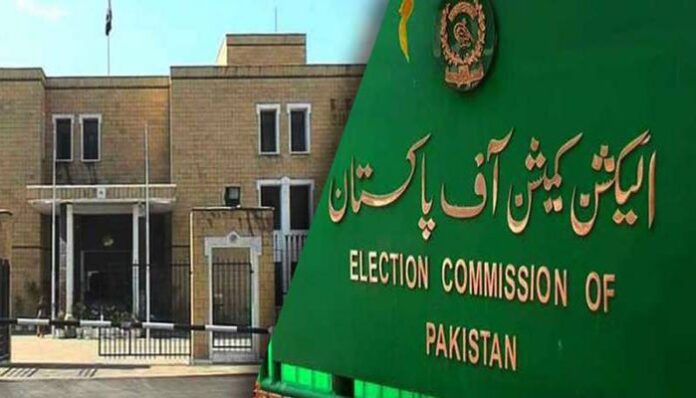 The Election Commission of Pakistan (ECP) said that the Project Management Unit (MPU) of the Commission has formally started its work on electronic voting machines (EVM) and overseas voting projects. The commission informed that for electronic voting machines and overseas Pakistanis votes, three different committees had prepared a report covering technical, legal, and financial aspects.
Read More: Third-Party Testing of EVMs is Necessary: ECP
Electronic Voting Machines to be purchased in the first phase
As per the ECP statement, a project plan was being finalized with a timeline to purchase EVMs. In the first phase, the EVMs will be purchased for pilot testing through advertisement and under PPRA rules. Moreover, these machines will be purchased from national or international firms.
The ruling PTI has been pushing for EVMs, saying they are a modern and scientific way of ensuring free and fair polls in the country while the opposition is resisting the move claiming that the machines would be conducive to rigging. Among other objections, the election supervisor observes that the EVMs are not tamper-proof; have software that could be hacked; there is not sufficient time to procure and deploy a large number of machines.
Imran khan displays the significance of EVMs
LG elections in KP have again shown problem of rejected votes bec of double stamping etc. The same had come out in Judicial Commission report on 2013 elections. The ability to manipulate elections through getting opp votes rejected is one of the reasons the status quo opposes EVM pic.twitter.com/ch78zPEGQw

— Imran Khan (@ImranKhanPTI) February 16, 2022
Earlier, Imran khan revealed that a shocking number of votes were rejected during the first phase of the Khyber Pakhtunkhwa (KP) Local Government (LG) elections in December 2021. He also shared official figures, revealing that the number of votes rejected, 23,113, was almost double the victory margin, 12,087, between the Pakistan Tehreek-e-Insaf (PTI) and the Jamiat Ulema-e-Islam-Fazl (JUI-F) candidates. The premier writer; "LG elections in KP have again shown problem of rejected votes because of double stamping etc. The same had come out in the Judicial Commission report on the 2013 elections. The ability to manipulate elections through getting opp voters rejected is one of the reasons the status quo opposes EVM."
Source: The Nation