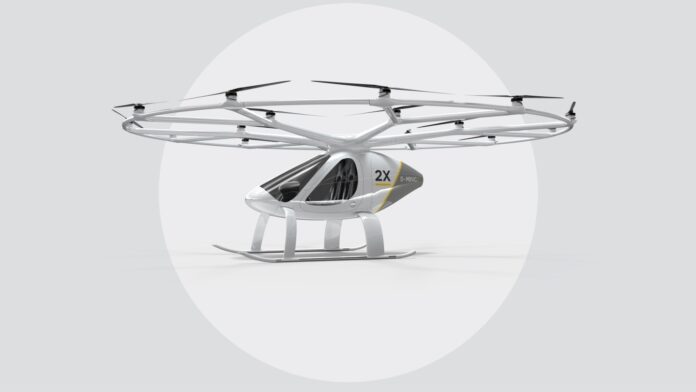 Dubai is again planning to launch flying taxis in the futuristic city by the year 2026. Dubai's ruler, Sheikh Mohammed bin Rashid Al Maktoum, announced the flying taxi program, saying air taxis will begin flying in Dubai within three years. "From the World Government Summit, we approved today the design of the new air taxi stations in Dubai, which will start operating within three years," he tweeted.
من القمة العالمية للحكومات .. اعتمدنا اليوم تصميم محطات التاكسي الجوي الجديدة في دبي .. والتي ستبدأ عملها خلال ٣ سنوات .. pic.twitter.com/tGQyPFVDUD

— HH Sheikh Mohammed (@HHShkMohd) February 12, 2023
The Flying Taxis Port Design
The country has also released the designs of the upcoming flying taxis, featuring a six-rotor electric flying taxi made by Joby Aviation of Santa Cruz, California, in the promotional video. Sheikh Mohammed was briefed by Mattar Al Tayer, Director-General and Chairman of the Board of Executive Directors of RTA, who said that the initial network of vertiports will connect four main areas of Dubai: Downtown Dubai (Burj Khalifa area), Dubai Marina, Dubai International Airport and Palm Jumeirah.
The vertiports embody a revolutionary form of infrastructure that encompasses a range of facilities such as designated take-off and landing zones, a passenger waiting area, security protocols, and electric charging stations. "These stations seamlessly integrate with other modes of transportation. The next step involves identifying exceptional investors who are experts in building the necessary infrastructure for the air mobility industry," he added.
How Will it Look Like?
To give a rough idea, the flying taxis by Joby would be able to travel 150 miles before needing to be charged, and could reach a maximum speed of 200mph; hence making other areas of the country easily accessible. Ahmed Bahrozyan, part of the Roads and Transport Authority said that the price for a flying taxi will be in the range of a limousine service in Dubai, maybe slightly higher. "We believe those are attractive areas with business hubs and tourist hubs that could generate considerable demand," he added.
Also read: Honda Plans to Develop Robots, Rockets and Flying Cars