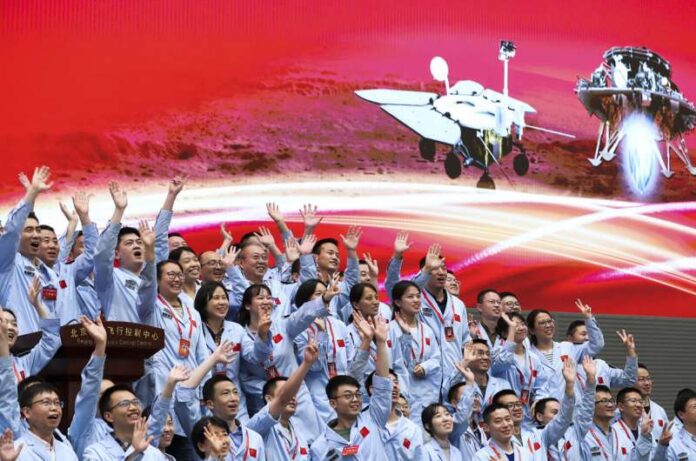 China has successfully landed a rover-carrying spacecraft on Mars for the first time, as reported by the state-run media on Saturday, marking another significant achievement for the country's aspiring space program that intends to compete with NASA.
To this date, China and the United States are the only countries to have victoriously landed and operated rovers on Mars, as Chinese President Xi Jinping acclaimed this event as a "milestone" achievement. The Tianwen-1 spacecraft, propelled from the Chinese province of Hainan in July, had been revolving around Mars since February while inspecting for possible landing sites. Early Saturday, it issued an entry capsule enclosing a lander and a rover that started to dive into Mars's atmosphere, as per the reports from the state-run Xinhua News Agency.
Read more: Pakistani developer Ahmad Awais's contribution to Ingenuity's software of NASA via open-source travels to Mars
Furthermore, the entry capsule safely landed at 7:18 p.m. Eastern time Friday, however, it took around an hour for area controllers to ascertain that the mission had been a success. Throughout the uncertain journey through the Martian environment, the craft had to function autonomously, and signals could not be broadcasted back to ground control till the robotic rover had touched the ground and flattened its solar panels and antenna.
Read more: NASA's Ingenuity Mars helicopter made a successful third flight on the Red Planet
"The motherland and people will always remember your outstanding feats!" Xi stated in a celebratory message to the Tianwen-1 mission team. "Together with the global science community, I look forward to the important contributions this mission will make to humanity's understanding of the Red Planet," Thomas Zurbuchen, the associate director of NASA's science mission directorate, tweeted in a congratulating message to the Tianwen-1 team.
Moreover, China's ambitions for its burgeoning space program comprise building its own space station that will proceed to operate after the International Space Station is demolished, and partnering with Russia to establish a lunar base. The victorious landing on the Red Planet occurs just days after the China National Space Administration encountered international disapproval over a massive rocket that dropped back to Earth on an uncontrolled trajectory.
Source: The New York Times