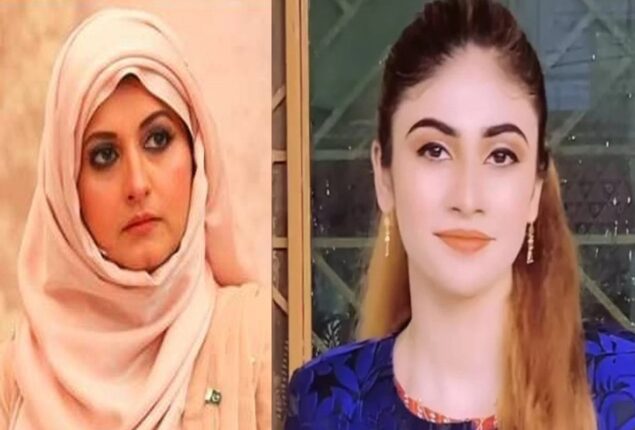 On Friday, the first wife of late well-known host Aamir Liaquat Hussain, Syeda Bushra Iqbal announced that she will be filing a cyber crime complaint in FIA against Hussain's third wife, Dania Shah. Taking to Twitter, Bushra Iqbal announced that she will be filing a cyber crime complaint against Dania and her mother. "Today we are going to file an application in FIA Cyber Crime against Dania Shah and her mother." She went on to request prayers as well."
Today we are going to file an application in FIA Cyber Crime against Dania Shah and her mother.
Need prayers. #AamirLiaquat pic.twitter.com/RJcy94T3NS

— Dr Bushra Iqbal?? (@DrBushraIqbal) July 22, 2022
Bushra Iqbal is Trying to Stop Dania Shah by Registering a Cyber Crime Complaint 
Prior to the registration of the cyber crime complaint, the Sindh High Court (SHC) on Tuesday approved the request of Dania Shah, the third wife of the late TV host, to be made a party in the case regarding his autopsy and ordered the applicable parties to prepare for it. Dania Shah, who filed for divorce momentarily before Aamir Liaquat's death, requested the high court to perform his post-mortem in front of the SHC bench comprising Justice Mohammad Iqbal Kalhoro and Justice Kausar Sultana Hussain.
Furthermore, during the hearing, Dania Shah's mother came to the rostrum and stated that Aamir Liaquat's wife had the right to know the cause of death. "My daughter was Aamir Liaquat's wife. Aamir Liaquat Hussain was such a great personality, the cause of death should be known," she stated before the court. Last month, Aamir Liaquat was found dead in his house in Karachi. 
Aamir Liaquat Was Found Unconscious at His House
Aamir Liaquat, who was also a PTI MNA from a Karachi constituency, was found unconscious at his house situated in Khudadad Colony of the metropolis, according to his servant Javaid. The 50-year-old was rushed to a hospital where he could not be revived and was pronounced dead. According to sources, the anchor had the door of his room locked from inside. The servant knocked on it several times in the morning but to no avail. He revealed that Aamir Liaquat had complained of chest pain the night before. 
Read more: Court Orders Aamir Liaquat Hussain's Autopsy