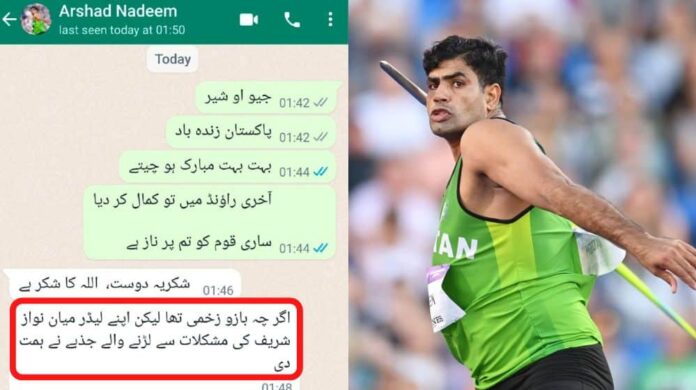 Pakistan's star javelin thrower, Arshad Nadeem, has cleared the air regarding the chat screenshot that has been making rounds on social media, which was shared by PMLN's social media pages, where Arshad's victory was being compared with Nawaz Sharif's struggle and persistence.
Gold medalist Arshad Nadeem's message on his historic victory. pic.twitter.com/myDSfQ9O45

— Sher Khan (@SherrrKhann) August 7, 2022
Arshad Nadeem Confirmed the Screenshot is 'Fake'
The star javelin thrower Said that no such conversation took place and the screenshot being spread on social media us fake. He urged the fans to ignore such fake stories and asked them to report such accounts that spread fake news. Arshad has also asked his fans to report all fake accounts running under his name as such accounts are the biggest source of spreading misinformation.
Earlier, PML-N vice president Maryam Nawaz Sharif tweeted, "Shabash Arshad Nadeem for winning the Gold medal in javelin throw and bringing glory to Pakistan! You've made us super duper proud. Well done Champ." Prime Minister Shehbaz Sharif also congratulated Mr. Arshad Nadeem on his performance and for winning the country's first javelin gold medal in the Commonwealth Games.
Read more: Pakistani Athlete, Arshad Nadeem, Wins Javelin Gold at Commonwealth Games
Commonwealth Games: Pakistan finishes in 18th position
in the recently-concluded Commonwealth Games 2022, Pakistan managed to secure 18th position, out of 72 different nations, with eight medals including two golds. The event was dominated by Australia as the Kangaroos claimed 178 medals including 67 gold, 57, silver, and 54 bronze. In other news, two Pakistani boxers went missing in Birmingham, just a few days after the conclusion of the Commonwealth Games. The secretary of the Pakistan Boxing Federation, Nasir Tang said that the two pugilists — Suleman Baloch and Nazeerullah — disappeared a couple of hours before the team's departure for Islamabad. The travel documents of both the boxers are with the PBF officials, and the British government and the police had been informed about the disappearance of the boxers.