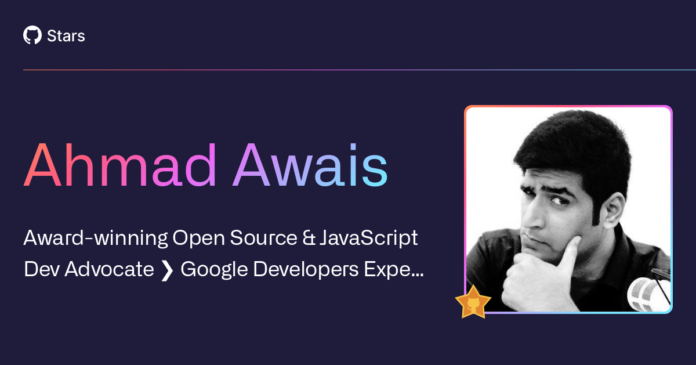 Similar to YouTube, which awards silver or golden buttons to the creators on its platform, GitHub also offers GitHub Stars. It is an official program that acknowledges developer experts from every corner of the world, who have worked above and beyond to encourage and train other developers in this domain and further lead by example by supporting others to sharpen their talents. 
An outstanding developer and a regular contributor at GitHub, Ahmad Awais has recently successfully acquired the Gold GitHub Stars Award. Currently, there are only 8 developers in the whole world to receive this honor. Therefore, Ahmad has now become the first-ever Pakistani to obtain this award and was chosen out of 60 million developers worldwide.
Ahmad has described himself as someone who has been the very essence of everything related to modern technology for years as he has contributed considerably towards open-source advancement and further prepares people to learn how to create new things on his YouTube channel.
Read more: Pakistan ranked among Top 10 countries in Open-Source projects: GitHub Report
This tech-oriented personality currently resides in Canada, from where he has been issuing technical content and building open-source software for almost a decade. Moreover, Ahmad has also created his own courses by which he shares his tremendous knowledge for anyone willing to learn and surpass in the ever-growing tech ecosystem.
According to Ahmad in a recent post on his Facebook, "I've been creating open-source software for a decade. Joined GitHub on August 4, 2011. I was in college at the time. I remember using GitHub in 2009 but never registered — no one in the college taught us, git. Ten years later, most of my career direction has been towards building Free & Open Source Software (FOSS). Open-source has brought me many opportunities. It's helped me connect with a global audience."
Read more: YouTube celebrates the success of Pakistani content creator
In addition to it, large-scale firms such as like Google, PayPal, Netflix, Microsoft, and Amazon utilize their code in one way or another. All of this resulted in Ahmad receiving the gold and being the emphasizing reel of the industry of technology amongst other tech leaders from across the globe. Presently, Ahmad is working as a Google Developer Expert heading the Developer Relations section at RapidAPI.
Image Source: Ahmad Awais