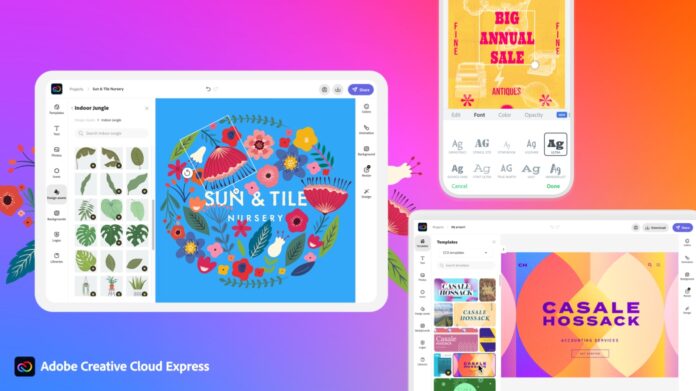 Adobe is now launching a new mobile and web-based app, Creative Cloud Express, that offers some of the best features of the company's popular Creative Cloud Suite and Acrobat PDF tools into a single application to allow users to quickly create anything graphical from social media posts to advertising posters and videos.
Creative Cloud Express is developed using a template-first approach with built-in access to stock pictures and other assets, the app is meant to be far more accessible than the separate Creative Cloud apps. Moreover, the app will be accessible in both a free version and a paid $9.99/month edition with added features and a library of more complex templates. Access to the new app will also be incorporated in Adobe's Creative Cloud All Apps and flagship single-app plans.
Creative Cloud Express is a New Tool for Non-Professionals 
In addition to this, the general idea after Creative Cloud Express is to provide non-professionals with the tools, they require to bring their idea to life. As Adobe's Ashley Still commented, the firm has observed a lot of growth from non-professional users in recent years. 
Read more: Adobe Launches New Content Attribution Tools on Photoshop
"What we're doing with the new app is we're taking all the learnings from our breadth of web and mobile apps, as well as our core Creative Cloud technology — whether it's Photoshop and imaging or video — and we're bringing it into a unified offering called Creative Cloud Express," Still stated. 
Users Want to Do it All in One Place
"This is really for people who are focused on outcome and not process. They don't want to start with a blank page, they want to start with an image from the 175 million-strong Adobe Stock library. They don't want to create a font; they want to get access to one of our 20,000 amazing fonts from the Adobe Font library. They want to be able to do it all in one place", he further continued. 
Source: TechCrunch