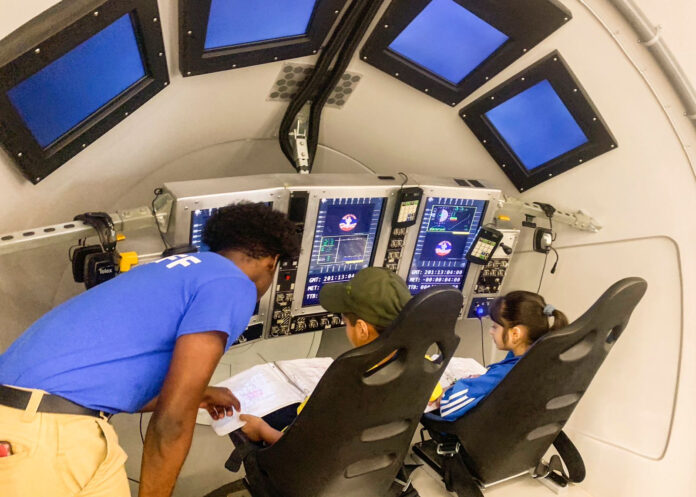 A group of 24 talented Pakistani students from three schools in Karachi are currently participating in the prestigious US Space and Rocket Center's Space Camp in Huntsville, Alabama. This extraordinary opportunity was made possible through a United States government-funded grant aimed at advancing science, technology, engineering, and mathematics (STEM) education and promoting eco-innovation among Pakistani students.
US Grant Promoting STEM Education and Eco-Innovation
The collaboration between the US Consulate General Karachi and The Dawood Foundation's (TDF) MagnifiScience Centre has been instrumental in promoting STEM education in 50 schools across Karachi. The US grant consisted of several components, including STEM training for 100 Pakistani teachers, educational field trips to the MagnifiScience Centre for over 1,000 students, and a science project competition.
The primary objective of the grant was to inspire an increase in STEM education by allocating more resources to train teachers and enhance learning outcomes. By motivating students to pursue careers in science-related fields, the initiative aims to meet the growing demand for STEM graduates in various sectors, including industry, academia, and research.
Empowering Students with Eco-Sustainable and Entrepreneurial Projects
The inter-school competition organized as part of the grant focused on the theme of eco-sustainability and entrepreneurship. Each participating team was provided with science kits to support their projects. Eight students and one teacher from three winning schools were selected by a panel of judges for their outstanding projects, earning them the remarkable opportunity to travel to Huntsville, Alabama, and participate in Space Camp.
The winning projects showcased impressive innovation and commitment to sustainability:
1. KMA Girls & Boys Primary School's Team: 'Chicken Feathers — Go Green Before the Green Goes': This project ingeniously utilized chicken feathers to create paper, demonstrating a sustainable approach to waste management.
2. Evergreen Elementary School's Team: 'Anti-Sleep Glasses': The team developed anti-sleep glasses with a built-in alarm to reduce the incidence of vehicle accidents caused by driver fatigue, promoting road safety and innovation.
3. KMA Boys Secondary School's Team: 'Plastic Road': This innovative project utilized waste plastic to create roads with an extended lifespan of over 50 years, contributing to eco-friendly infrastructure development.
Also read: Pakistani Student Bisma Solangi's Anti-Sleep Glasses Earns NASA's Recognition