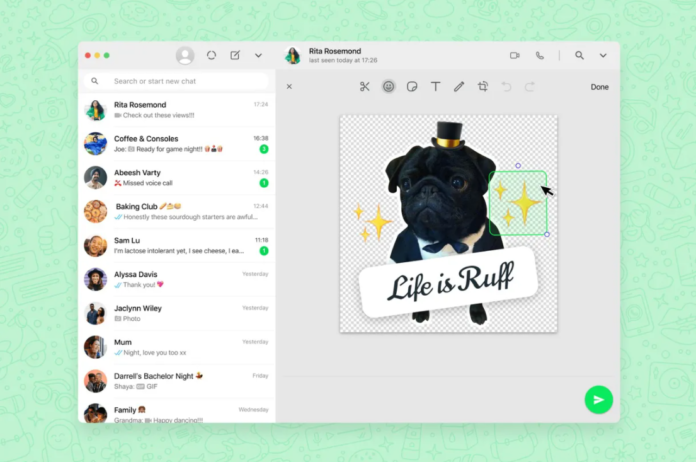 Meta-owned WhatsApp's web version has been updated with a new built-in Sticker Maker feature, which enables user to transform normal images from their computer into stickers that can be sent via the messaging service. The latest built-in Sticker Maker feature is next coming to its Desktop apps in the next week.
Users Can Now Convert Pictures into Stickers Using the Latest Built-in Sticker Maker Feature 
To access the feature, users can click the paperclip (attachments) icon, select Sticker, and then pick a picture to upload. Furthermore, once uploaded, pictures can be edited to convert them into the perfect sticker. A frame can be drawn around a picture's subject to cut out the background, and pictures can further be cropped (though always in a square aspect ratio). Emoji, text, and added WhatsApp stickers can also be layered on top of the sticker creations.
Read more: WhatsApp Updates Privacy Policy for European Users After a Record €225 Million Fine
The concept of creating your own stickers on WhatsApp is nothing new, and there is a complete range of third-party applications available on iOS and Android dedicated to the task. However, the built-in Sticker Maker feature is very convenient having it built directly into the service's desktop and web versions, especially since they let users edit pictures with the precision of a mouse pointer.
The Extension of the Limit to Delete a Message 
In addition to this, WABetaInfo has also announced news concerning WhatsApp for Desktop stating that the app is preparing to increase the limit to delete a message. As of now, users can delete messages for everyone in a conversation within 1 hour, 8 minutes, and 16 seconds. The company intends to change the time limit to seven days and eight minutes in a future update. Since this feature is still under development, WhatsApp can change its intention about increasing or restricting the ability of users to delete older texts.
Source: The Verge