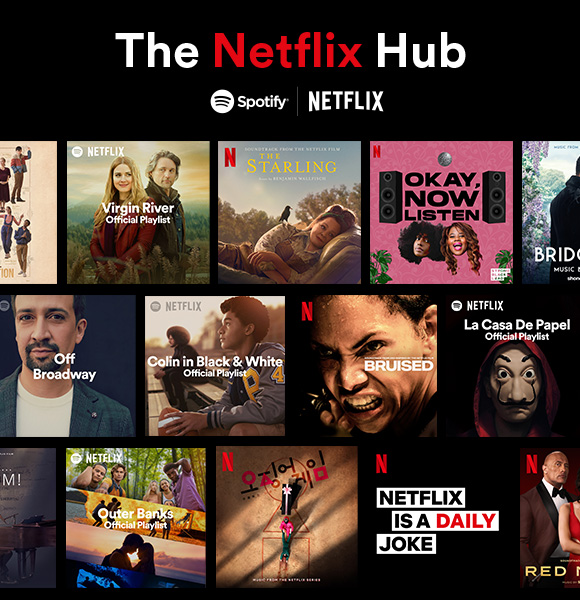 Music streaming platform, Spotify has rolled out a Netflix hub with soundtracks, playlists, podcasts, and exclusive content related to programming on the streaming video service. The Netflix hub is accessible to both free and premium Spotify subscribers in the U.S., Canada, Australia, New Zealand, the UK, Ireland, and India.
Users Can Find Official Soundtracks of Shows and Movies on Netflix Hub
Spotify's new Netflix Hub will offer a centralized place for finding the official soundtracks, playlists, and podcasts for top shows and movies on Netflix. Furthermore, at the launch, the Netflix Hub offers soundtracks and playlists from Stranger Things, La Casa De Papel, Narcos: Mexico, Outer Banks, Squid Game, tick, tick…Boom! Bridgerton, Cowboy Bebop, Virgin River, On My Block, and others. 
Moreover, other music and fan experiences will be a part of the new destination as well, including an improved album for the Netflix Western film, "The Harder They Fall," which provides fans a behind-the-scenes look at the production of the soundtrack directed by Jay-Z. 
Read more: Spotify Rolls Out Real-Time Lyrics Feature to All Global Users
A Game-Like Adventure with Your Favorite Characters
In addition, there's a content destination for "La Casa De Papel (Money Heist)," Part 5 Volume 2, and a role matching adventure where enthusiasts get to play a game to find out which "La Casa De Papel" character they are –which feels a bit like a playing a BuzzFeed quiz. The Netflix hub is built on Spotify and Netflix's existing partnership. The two organizations have worked collectively on several official playlists, including, most recently, the enhanced album for "The Harder They Fall," which had been available before the Netflix Hub's launch. 
The companies have also worked on the "Money Heist" content experience and the character-matching game ahead of today's news. Netflix is not the only major firm to debut a thematic "hub" on Spotify's app. Lately, Spotify and Peleton declared a similar partnership that launched a "Curated by Peloton" Workout Hub featuring playlists from Peloton instructors. And outside its app, Spotify earlier this year collaborated with GIPHY to introduce users to music through artists' GIFs.
Source: TechCrunch