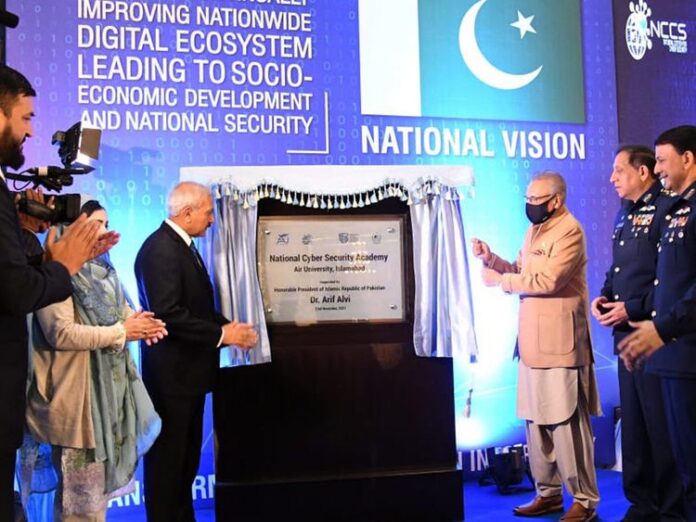 The president of Pakistan, Dr. Arif Alvi has launched the nation's first National Cyber Security Academy at Air University in Islamabad. The center was inaugurated on the sidelines of the two-day International Conference on Cyber Warfare and Security 2021 at PAF Complex, Islamabad. The center has been built with the collective efforts from Pakistan Air Force (PAF), Air University, and Higher Education Commission (HEC).
National Cyber Security Academy Will Educate Organizations to Build More Secure Networks
Moreover, while addressing the ceremony, President Alvi stressed cyber security as one of the most urgent threats to national security. He emphasized the significance of developing Pakistan's skills in cyber security to protect its critical systems and data by financing in acquiring experts and solutions to decrease the risk of cyberattacks in all divisions. "It is time for Pakistan to secure its boundaries from all sorts of cyberattacks in all domains" from support, energy to monetary foundations, he said.
Furthermore, a robust cyberspace is very crucial for countries to develop and advance in commercial, governmental, and social ecosystems, he said. Welcoming the industry-academia collaboration for the endowment of the National Cyber Security Academy, President Alvi urged the necessity to integrate cyber capacity structure and development strategies by involving the cyber community, academia, and policymakers.
Read more: SBP Joins Forces with FIA to Fight Money Laundering and Cyber-Attacks in Pakistan
Moreover, the inauguration ceremony of the National Cyber Security Academy was also attended by PAF Air Chief Marshal Zaheer Ahmed Baber, Vice Chancellor Air University Air Marshal (Retd) Javaid Ahmed, and Air Vice-Marshal Abbas Ghumman, Director General C4I PAF, and other civil, military and international dignitaries. PAF has been working jointly with academia to strengthen the study and advancement efforts in the cyber area and transform the academy into an efficient and highly responsive cyber force.
Notable Organizations of the Country Have Been Recently Hit by Cyber-Attacks 
In addition to the launch of the National Cyber Security Academy, recently, the National Bank of Pakistan (NBP) and Federal Board of Revenue (FBR) database underwent cyberattacks disrupting the services. K-Electric, the electricity provider for Karachi city, was similarly hit by a ransomware attack that blocked billing and online services. Pakistan's IT & Telecom Minister Syed Amin-ul-Haque also said that the ministry is developing a Computer Emergency Response Team (CERT) to anticipate and respond to cyberattacks on national and private institutions.
Source: Mashable