WhatsApp plans to add few more features, including multi-device support, view once, and disappearing mode this year. It is to enhance the platform, ensuring its prominence in the market.
For few months, WABetalInfo reports circulated the rumors of the updates. However, the company has Facebook CEO Mark Zuckerberg has now confirmed them, clearing all doubts. The news officially came in an interview between WABetaInfo and Facebook CEO Mark Zuckerberg and WhatsApp head Will Cathcart.
This new multi-device support will enable WhatsApp users to link their single account with up to 4 devices. Interestingly, it would not even require an internet connection to the primary device. This multi-device support will also bring an opportunity to make WhatsApp on iPad possible.
While talking about multiple-device support, Zuckerberg said,
"It's been a big technical challenge to get all your messages and content to sync properly across devices even when your phone battery dies, but we've solved this, and we're looking forward to getting it out soon!"
Furthermore, the new 'View Once' will be pretty similar to Snapchat's feature as it allows users to have a one-time view of the messages. After then, all the messages will disappear automatically. The 'Disappearing mode' expands the existing feature that aims to ensure the deletion of all the messages after a set period.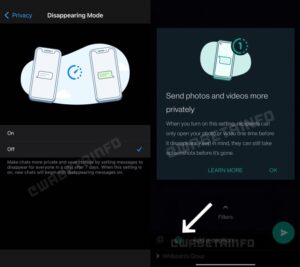 Cathcart declared that the multi-device support would roll out in public beta 'in the next month or two. But the company did not give any expected timeline regarding the launch of the rest of the features.
According to WABetaInfo reports, it is also working on a new password-protected encrypted chat backups feature. It will make the transfer of the chat histories feasible from iOS to Android devices.
Read more: Here is how you can hide your 'Last Seen' status on WhatsApp.