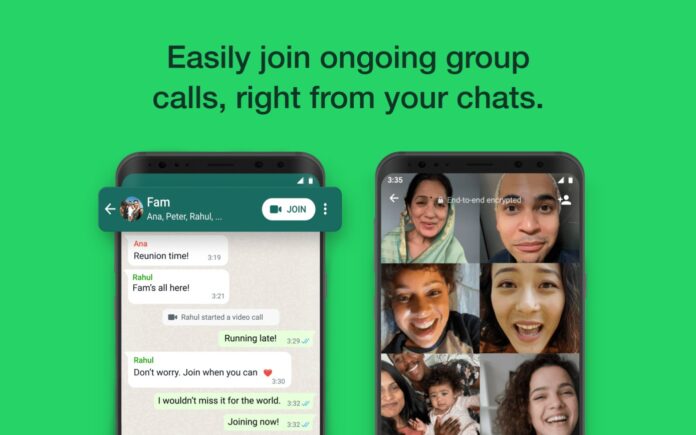 In recent news, the popular instant messaging app, WhatsApp has now integrated its joinable calls feature, which allows its users to join an ongoing group video, directly into group chats. The newest update will provide users the choice to join an ongoing group call right from the group chat tab. The joinable calls feature was first launched in July this year.
Furthermore, WhatsApp has now brought several enhancements to the joinable calls feature by integrating it with WhatsApp groups. Amongst the changes included with the newest update, group call notifications will now display the name of the group instead of the names of the participants.
Moreover, a user can now join an ongoing WhatsApp group call right from the group chats window. All ongoing group video and voice calls will now further be visible in your chats that you can easily spot and join as soon as a user opens the app.
Need to pop in and out of a group call? Easily join ongoing calls right from your group chats! pic.twitter.com/OtOHKXh5Ev

— WhatsApp (@WhatsApp) October 18, 2021
The Joinable Calls Feature Will Spontaneously Connect Users to their Groups
"We are making it easier to connect spontaneously with your groups. Join ongoing calls with your groups anytime, effortlessly, and directly from the chat view with one click," the Facebook-owned company stated. Once a group call is begun, all members can either join in instantly or at their convenience. The latter will see a separate tab within the group chats with a Join button, they can tap it to get into the call using the joinable calls feature.
Read more: WhatsApp can Block Group Chats owing to Suspicious Group Activities
In addition to this, the feature is only applicable for people who are part of the respective WhatsApp group to join an ongoing group call. WhatsApp says the calls will now onwards further receive a lighter distinct ringtone to make it feel as "light as sending and receiving a message".
WhatsApp Has Also Begun Rolling Out End-to-End Encryption for Chat Backups
The company has been rolling out new innovative features over the past week to draw in new users and guarantee privacy for the current ones on the platform. It recently began rolling out end-to-end encryption for backups saved on Google Drive and iCloud for Android and iOS users, respectively.
Source: TechCrunch