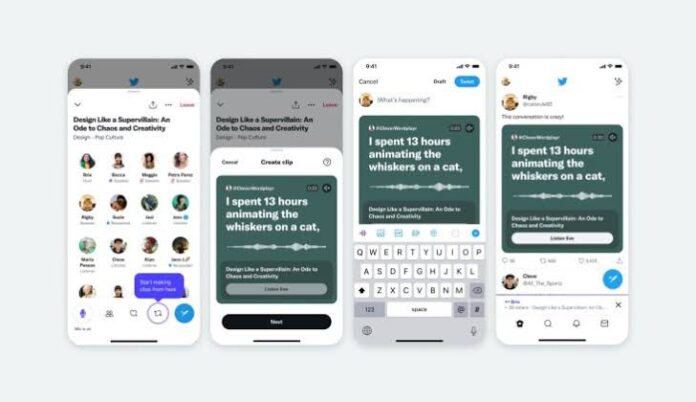 Twitter has started testing a new clipping tool for its Spaces audio rooms that allows a host to share a clip of recorded Spaces on their timeline. According to Twitter; "Everyone on iOS can see and listen to clips, while those on Android and the web will be able to real soon."
The clipping tool for Spaces will soon be available for everyone
As the company announced that the clipping tool for Spaces will only be available for iOS users for now it also said that the clips will only have a life of 30 days after that it will expire. A Twitter spokesperson said, "There is no limit to the number of audio clips that can be created, and they will live on the platform for 30 days … We will be monitoring feedback and plan to expand Spaces clipping functionality to everyone on Twitter shortly."
The clipping tool for Spaces is a great feature for those who don't have enough time on their hands to listen to a whole-long podcast so instead listening to a few seconds of clippings will help digest the information in no time. Hosts will be able to create audio clips from recorded spaces that can be shared via a tweet that will also link back to the whole recording. The new tool is a way for hosts to boost interest in their Spaces while also highlighting specific parts of a broadcast.
Live audio grew in popularity amid the pandemic
The pandemic has pushed audiences to explore newer content formats on social platforms, particularly, audio-only formats. One major reason for the podcasts attracting more listenership was also the availability of fresh video content during the pandemic. While production of films, TV and web shows stopped, players like Spotify and Audible upped their game in podcasts by launching audio originals.
Read more: Twitter to Develop a Dedicated Tab for Podcasts
Source: Verge