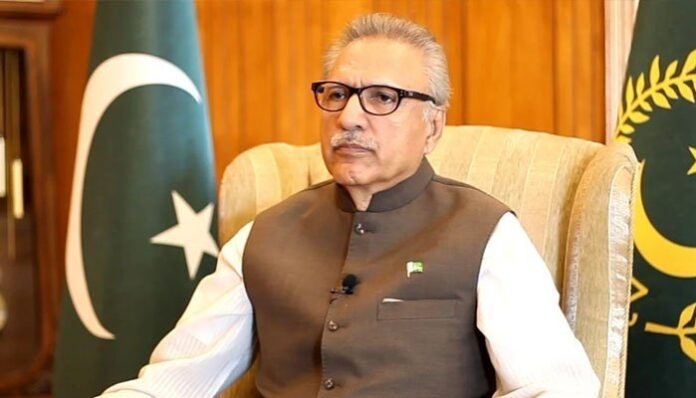 During a briefing on Riphah International University at Aiwan-e-Saddar on Tuesday. Dr. Arif Alvi said that educational institutes should rethink their vision and focus on getting an intellectual edge to meet the challenges of the fast-changing world. The President stressed online education and asked the universities to increase e-learning as it is cost-effective and would also help the students get easy access to higher education.
The meeting was attended by Vice-Chancellor RIU Prof Dr. Anis Ahmad, Executive Director RIU Mr. Asad Ullah Khan, Registrar RIU Brigadier (R) Eng. Salim Ahmed Khan, and senior officials from the Ministry of Federal Education and Professional Training and Higher Education Commission (HEC).
Read more: Arif Alvi Inaugurated the Digitization of State-Run Media Organizations
President stressed online education, ethical studies, and character-building of students
The Vice-Chancellor of RIU briefed the president about the achievements and role of his university in the promotion of education in the country. The president appreciated the efforts of the educational institute for providing quality education.
The president urged the universities to focus on the requirements of the 4th industrial revolution and research and development activities that will enable Pakistan to join the ranks of technologically advanced countries. He added that besides academic achievements, universities should also focus on ethical studies and the character-building of students. Dr. Arif Alvi lauded the efforts of the Higher Education Commission's policy of providing a waiver to differently-abled students in tuition fee, hostel fee, and utility fee.
Collaboration with International Universities
The president urged the need of developing academia-industry linkages and collaborations with international universities to give proper exposure to the students before they step into the field.
To cope with the rapidly evolving world it is important to grab the right opportunity at the correct time and work your way into it. The academia-industry linkage is the most pivotal part of educational transformation because it gives industrial exposure and an opportunity to implement theoretical learning into practical application.
Source: Tech Juice