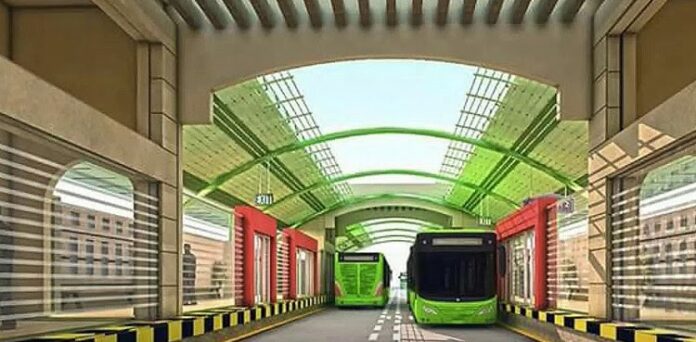 The first consignment of 40 Green Line Bus Rapid Transit System (BRT) has arrived in Karachi from China on Monday. Sindh Governor, Imran Ismail said during the unveiling of green line buses in Karachi marks a new milestone. The city has suffered a lot due to obsolete public transport and green line buses will serve as a new ray of hope for the residents of Karachi.
Unveiling of Green Line Buses in Karachi
The largest city of Pakistan has endured a lot in terms of transportation. With several transportation projects inaugurated in Punjab, Karachi remains hugely neglected and the people had to forcefully use the dangerous buses to travel to work. The smoke, dust, dug-up roads, and unusual traffic jams all of having contributed to the physical and mental illnesses.
While addressing all these concerns the Minister for Planning and Development, Asad Umar said that 40 more buses for the project will reach Karachi next month and commercial operation will start within two months whereas the test run of the buses is expected in October.
The Green Line BRTS was a modern technology-based transport system, comprising a 22-kilometre dedicated corridor aimed at providing easier mobility and catering to the travel needs of 135,000 passengers per day. The Prime Minister of Pakistan, during a high-level meeting in Karachi on July 10, 2014, announced to provide infrastructure component to launch the BRT Green Line project on modern lines to alleviate the served traffic congestion problems in the city and to improve the quality of life of the daily commuters by improving the existing transport system.
Read More: Govt of Sindh allocates Rs6.5 billion to acquire electric buses for Karachi
Objectives of Green Line Project and proposed routes
The main project objectives are;
• To provide reliable, safe, affordable, high quality and fast BRT Bus Service
• To modify the quality of life of commuters in Karachi
• To greatly enhance the quality of public transport system in Karachi
• To deliver the infrastructure that allows buses to ply efficiently with exclusive right-of-way for a substantial fraction of their route length
• To reduce travel time.
The proposed route for Green Line starts from Municipal Park, where a rotary U-turn lane is proposed for buses. The plane alignment extends along M.A Jinnah Road towards most north up to Gurumandir, and after Gurumandir the alignment runs northward along Business Recorder Road, Nawab Siddique Ali Khan Road, Shahrah-e-Shershah Suri and Shahrah-e-Usman passing by some of the major landmarks such as Numaish, Board Office and Nagan Chowrangi.