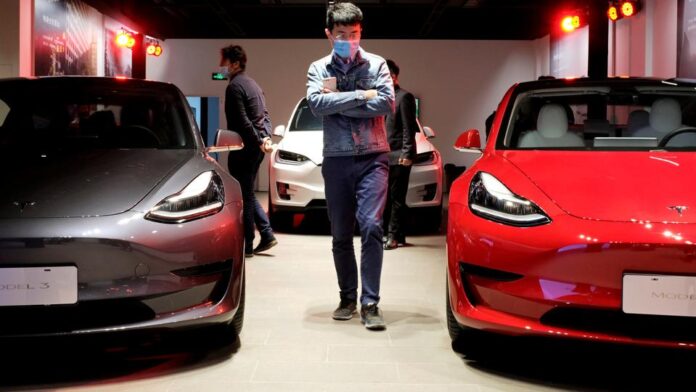 January 26 recorded a high rise for Tesla, and as per the latest report the case is not the same and Tesla's value faced a downfall in its value by a third on Monday. This is said to be consecutive third time in a row in single year.
Tesla's market capitalization has faced a downfall of $300 billion as compared to its record in January which recorded $550 billion. This leaves Tesla even behind Facebook which it took in December after joining the S&P 500. The current statistics did not fail to make investors to worry about the rising interest rates and dumping high-valuation stocks in recent weeks.
As per the current stats, Tesla's shares went down by 4% on Monday which is a downfall of 35% as compared to its peak record made in January. The ARK Innovation ETF, invested 10% of its shares in Tesla which also faced a downfall of 6%.
Read More: Qualcomm launches a new line of chips for connecting wireless speakers.
Tesla's surge is expected to produce more cars quickly and profitably. As per the news covered by The Express Tribune  The stock's latest dip follows a tweet by Chief Executive Elon Musk on Saturday that an update on Tesla's planned Cybertruck pickup would likely be provided in the second quarter. Musk unveiled the Cybertruck in 2019.
The downfall of Tesla is somewhat similar or greater than the current selloff twice since early 2020, among Wall Street's largest companies.
The stock decreased down to 60% in February and March last year in the times when the coronavirus pandemic effected global markets. Soon after accelerating in August, it dropped 33% before resuming its meteoric rise.
Since the Nasdaq peaked on February 12, Tesla is now down almost 30%, Apple Inc is down about 10%.
Tesla even bought Bitcoins worth $1.5 billion but was not able to stop the downfall, even though the price of Bitcoin increased by more than 10%.
According to Reuters calculations, Tesla bought bitcoins in January, if it would have bought them at the mid-point price of about $45,000 for that month, its investment could now be worth around $1.7 billion.
Image Source : TRT world