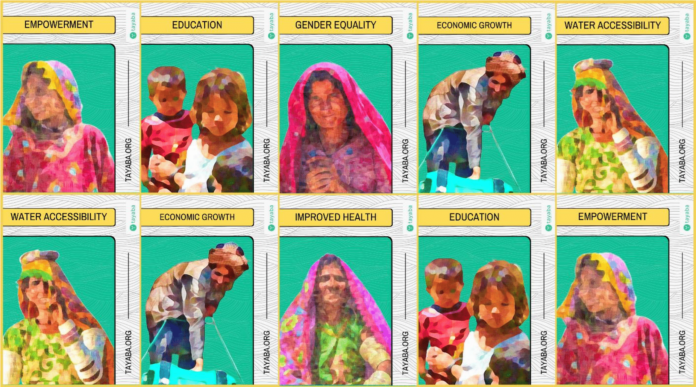 A Pakistani non-governmental organization (NGO), Tayaba Organization has launched and auctioned a limited collection of Non-Fungible Tokens (NFTs) using crypto, in an NFT Fundraiser essentially to raise awareness for its water convenience initiative.
First Pakistani NGO to Use NFT Technology for Fund Raising Purposes
Through this step, Tayaba Organization has become the first Pakistani NGO – and one of the first global establishments– to implement the innovative blockchain-based NFT technology using crypto for fundraising purposes in the welfare division. Moreover, the NFT fundraising campaign instantly gained traction on Instagram with an escalating number of people showing interest in the initiative due to its originality and technological inventiveness.
The NFT Collection of Tayaba Organization Consisted of Trading Cards 
Furthermore, the collection of NFTs to be auctioned consists of Trading Cards that represent each of the aforementioned values which project the impact Tayaba's H2O Wheels have had on its users. The NFT fundraiser consisted of 12 assets including trading cards, animated pictures, and gifs, is being auctioned through Opensea: opensea.io/Tayaba.
Tayaba Organization Has Successfully Raised Over PKR 2 Million 
Though the pricing varies from $46 to $1,938 to $3,876 in the ongoing NFT fundraiser, Tayaba Organization has so far managed to raise more than Rs. 2 million before the International Charity Day. Funds raised from the auction of the NFT collections will help the charity's efforts to continue to work towards its purpose of enhancing water accessibility and empowering women and families in underserved and water-deprived populations.
Read more: Chand Nawab's Viral Video goes up for Auction as NFT
In addition to this, a giveaway named NFT (Now-for-Tayaba) was simultaneously proclaimed when the NFT Fundraiser went live, giving people the rare chance of possessing unique NFTs, worth more than $240 for free.
NFT Could Be a Game-Changing Medium for NGOs/Charities
Reflecting on the NFT fundraiser in detail, the founder and social entrepreneur, Bilal bin Saqib stated, "The world is advancing at a rapid rate and digital trends are taking over. In this new digital era, NFT using crypto could be a game-changing medium for NGOs/Charities across the world to raise funds. NFTs can be a great way to raise money through auctions, allowing organizations to raise funds in a transparent way, while engaging a new audience and strengthening brand awareness."
Read more: Viral meme 'Friendship Ended with Mudasir' auctioned for $53,000 for NFT listings
Furthermore, the Pakistani NGO, Tayaba Organization was established by Bilal Bin Saqib in 2016. After graduating with a Master's degree in Social Innovation and Entrepreneurship from the London School of Economics, Bilal's philanthropic endeavors has not just earned a Points of Light Award and acknowledgment by PM Boris Johnson for the charity's impact, but he has also previously starred in the Forbes 30 Under 30 list in appreciation of Social Entrepreneurship through Tayaba.
Source: Pro Pakistani