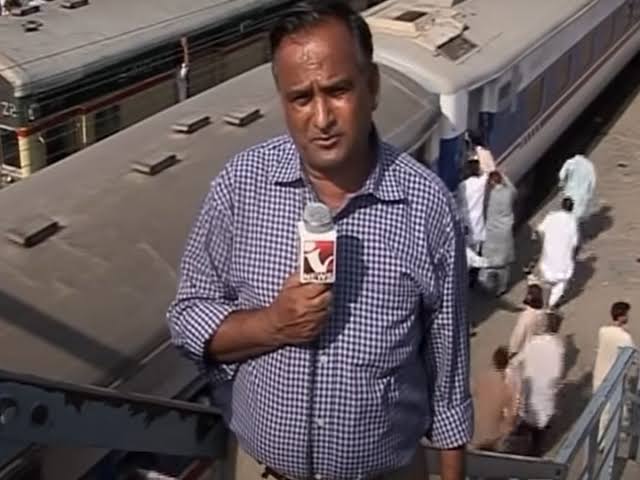 Pakistani journalist, Chand Nawab who shot to fame because of his video where he was seen reporting at Karachi's busy railway station before Eid in 2008. The famous clip was originally uploaded on YouTube in 2008, that went viral and gathered millions of views. Chand Nawab's viral video clip has been put up for auction as an NFT and the minimum bid is placed at 20 Ethereum.
Read more: Viral meme 'Friendship Ended with Mudasir' auctioned for $53,000 for NFT listings
Chand Nawab's viral video clip is selling as NFT
Who would have known that Chand Nawab's viral reporting would make him a rich man after 12 years? Chand Nawab has out up his video for auction at a website called 'Foundation. App'
The description of the video reads, "I'm Chand Nawab, a journalist, and reporter by profession. In 2008, a video of me surfaced on YouTube in which I fumbled while reporting Eid Festival frenzy at a Railway station. While reporting, I was contently interrupted by people, my fumbling and constant irritation made this video viral getting millions of views on YouTube and Facebook. My popularity again surged in 2016 when my viral video inspired Indian filmmaker Kabir Khan to create Nawazuddin Siddiqui's character in his 2015 blockbuster 'Bajrangi Bhaijaan'. I got fame overnight getting a lot of love and appreciation from India and Pakistan especially from Bollywood star Salman Khan and another cast of Bajrangi Bhaijaan."
Weird NFT Craze
NFT Craze is getting weirder and it is a clear depiction that the world has finally entered into the crazy-internet era. Recently, Charmin, a toilet paper manufacturing company has put up various pictures of toilet rolls art as an NFT, with initial bids ranging from $500 to $2,100.
In near future, NFTs can either become part of many peoples' investment strategies or go through another cycle of boom and bust because the art piece owned on a blockchain can fluctuate from the original price.
Source: Samaa TV