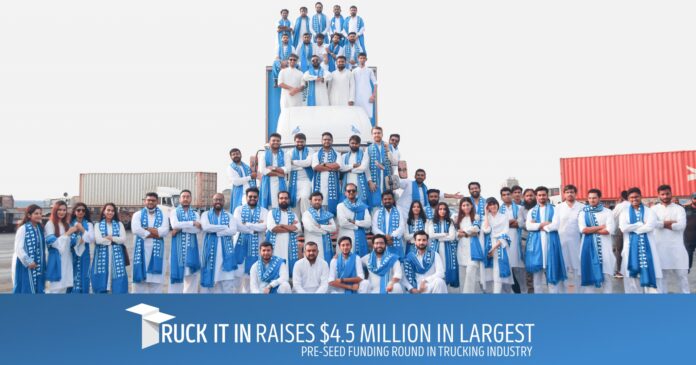 Truck It In, a Karachi-headquartered logistics startup and a trucking marketplace has added $3 million to its pre-seed round amount in an increase to conclude the round at $4.5 million, as announced by the company today. Moreover, in an official statement, the trucking marketplace startup declared that it is the largest pre-seed funding round for any trucking startup in the world. 
The Largest Pre-Seed Funding Round in the Region
Furthermore, the said news comes just five months after Truck It In raised $1.5 million. At $4.5 million, it is the largest pre-seed funding round in the region. The funding settlement was directed by the current investors, Global Founders Capital and Fatima Gobi Ventures, furthermore, witnessed participation from Germany-based Picus Capital and Pakistan's Zayn Capital.
To know more about the startup, Truck It In connects shippers and truckers through its online platform, making it effortless for both parties to conduct business collectively. The shippers get access to a dependable fleet of trucks at a competitive price range with features like real-time monitoring, along with reports and insights, and truckers obtain immediate loads and assurance for return trips.
Truck It in Aims to Help 3 Million Businesses and Save $1 Billion Yearly
In a statement, Truck It In's co-founder and CEO Muhammad Sarmad Farooq stated, "We're at the very early stages of transforming a critical industry and aim to help over 3 million businesses save $1 bn annually in supply chain inefficiencies. Our long-term aim is to streamline and digitize the logistics sector to create a ripple effect across the economy."
Read more: Karachi-based trucking marketplace 'Truck It In' raises $1.5 million in Pre-Seed funding round
Tito Costa, Partner at Global Founders Capital, said, "In only a few months since launch, we have seen an overwhelming market response to Truck It In's offering. We are honored to increase our commitment and support the team as they scale even faster to capture this opportunity in Pakistan."
Moreover, the General Partner at Fatima Gobi Ventures, Ali Mukhtar stated that their support has been rightly placed in Truck It In's team to simply and modernize the country's legacy trucking division and spur speedy growth in the trucking marketplace space.