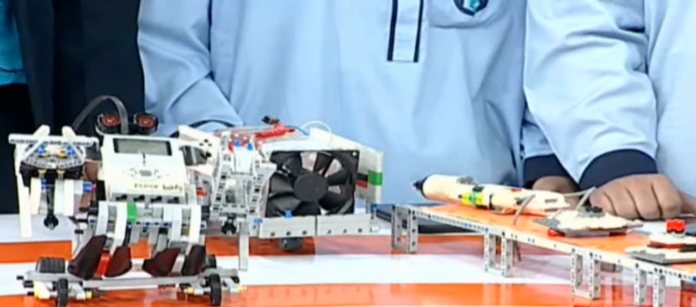 A robotic project developed by three students from Karachi has managed to secure the 4th position at the World Robot Olympiad (WRO) held in Canada.
The project for dousing fire developed by Ibrahim, Burhanduddin, Mustansar of grades 7, 8, and 10, was completed in two weeks by the school students.
While talking on a TV channel, the school students from Karachi shared that they participated in World Robot Olympiad (WRO) held in Canada and were tasked to work on climate change issues.
Keeping the increasing incident of wildfire in the world, they decided to create a robotic project that helps in dousing the fire.
Ibrahim added that four robots were created in the project. Detailing the invention, he said whenever fire breakouts, the robotic sprinter machine will caution with the alarm and after that other machines will help in throwing water over the fire at speed to extinguish it.
Then another portion of the robotic program will help in controlling the carbon dioxide produced during the process. Ibrahim said, "It will shift it to the geo power thermal plant, where it will be changed into ferric, which helps the affected building or site from completely being demolished after the fire incident."
Replying to a question, the kids said it took two weeks to complete the project. Mr. Hussain, teacher of students lauded the incredible invention of the kids and said that they are the future of the country. The students have also demonstrated their project.
The teacher of the students named Mr. Hussain while praising the incredible invention of his students said that they are the future of Pakistan.
The answer is certainly novel and might be applied on a big scale after the identical robots are replicated utilizing greater elements. This simply goes to point out that with applicable coaching and mentorship, Pakistani high school college students and past can outclass certified engineers to create progressive merchandise.
Source: TechJuice
Read more: PTA approaches social media platforms to ban Sacrilegious Film 'Lady of Heaven'