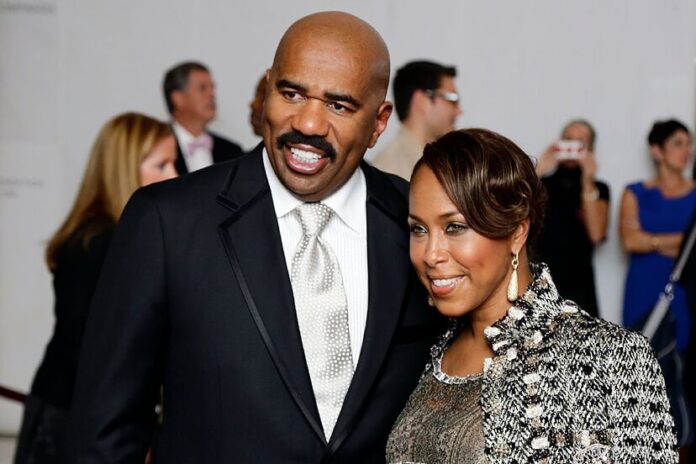 Renowned American television host Steve Harvey has put an end to the swirling speculation surrounding allegations of infidelity involving his wife Marjorie Bridges. The couple found themselves at the center of attention after reports emerged claiming that Marjorie had engaged in a romantic involvement with both their bodyguard and personal chef during the recent Invest Fest 2023 event in Atlanta.
Steve Harvey Addresses the Controversy
Taking to the stage during the event, Steve Harvey directly confronted the swirling rumors about his wife's alleged affair. In a video that has since gone viral on TikTok, the 66-year-old television personality addressed the gathered audience with a calm and assured demeanor. "Before I get started, just let me say, I am fine. Marjorie's fine," he asserted, effectively quelling the speculations that had ignited on social media. His tone carried a mix of nonchalance and exasperation as he candidly expressed, "I don't know what y'all doing, but find something else to do 'cause we fine. Lord have mercy. Man."
Being Positive During Adversity
Steve Harvey's response to the Marjorie Bridges cheating allegations showcased his resilient attitude and unshakable bond with his wife. In his words, "I ain't got no time for rumours and gossip. God's been good to me, I'm still shining." This sentiment exemplified his determination to rise above the negative chatter and focus on the positivity that anchors their relationship.
Marjorie Bridges holds a special place in Steve Harvey's life. The couple exchanged vows in June 2007, and Marjorie has played a transformative role in Steve's personal growth. Their journey has been one of healing and growth for Steve, who had previously experienced tumultuous relationships. In an interview with PEOPLE in 2012, Steve openly praised Marjorie, acknowledging that she had brought positive change to his life. He admitted to never having experienced a healthy adult relationship before, and Marjorie's presence had ushered in a sense of loyalty and respect that he had not known previously.
Also read: Melinda Gates Talks About Her Very Public Divorce from Bill Gates