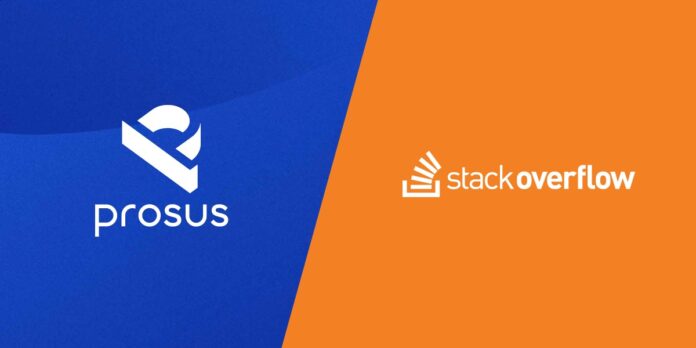 Prosus NV, Europe's largest tech investment company has agreed to acquire the legendary Q&A website for programmers, Stack Overflow for $1.8 billion, adding a further online-learning market to the Dutch e-commerce giant's expanding portfolio.
The firm, which has also funded U.S. education companies such as Brainly and Udemy, the firm views technology training as "the most populous and fastest-growing division of corporate learning and advancement," it proclaimed in a statement on Wednesday. 
Moreover, Stack Overflow, one of the 50 most popular websites in the world, has built a global company and highly engaged developer and technologist community over the last 13+ years, now serving more than 100 million people across the world every month. "With this new deal, our total investment in the sector is north of $3 billion."
Read more: Twitter acquires Revue – newsletter publishing company to expand business
It was inaugurated in the year 2008 as an open community-based question and answer website for the developer community, the business has expanded to incorporate Stack Overflow for Teams, leading knowledge management, and collaboration solution that numerous top businesses around the world trust. Stack Overflow for Teams and their widespread community content have grown to be a necessity for the enterprises, owning a significant impact on their product and technology advancement.
Furthermore, Prosus has established a significant presence on the business side with a focus on the prospect of workplace learning. Prosus will reach 90% of the Fortune 100 across its corporate learning organizations including Stack Overflow, Skillsoft, Udemy, and Codecademy.
Read more: Slack acquired for over $27 billion by Salesforce, marking cloud software program vendor's largest deal ever
In addition to it, Larry Illg, the CEO of EdTech at Prosus, commented, "We are delighted to be welcoming Stack Overflow to the Prosus family as we increasingly focus on the future of workplace learning. Learning of any kind typically begins with a question and their platform is critically important for global developers when they have questions about their work."
Source: Bloomberg