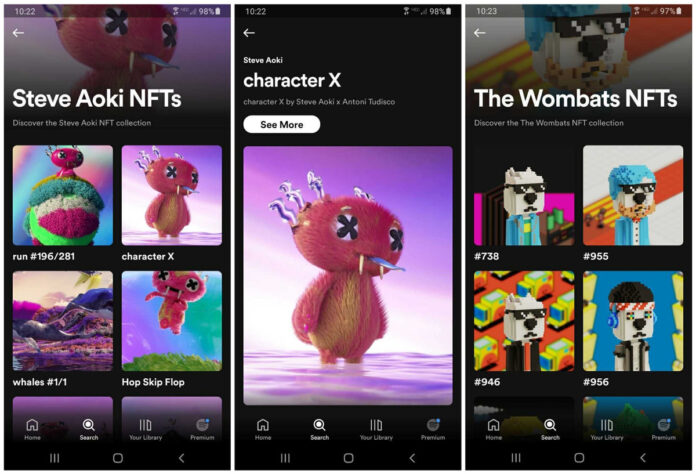 Spotify has begun testing NFT galleries for selected artists, first reported by Music Ally. The company later confirmed to a local publication that it is experimenting with a very small group of US artists. A spokesperson for Spotify said; "Spotify is running a test in which it will help a small group of artists promotes their existing third-party NFT offerings via their artist profiles."
What is Spotify planning with NFT galleries?
If you have access to the Spotify's NFT galleries test then you would be able to view the NFTs of the selected artists after passing their song list. Clicking on the NFTs will enable you to see a larger version of it along with the description. As per Verge, a 'See More' button will redirect you to the OpenSea listing where you can also purchase the token.
However, Spotify does not seem to support the GIFs or videos NFT format as it will only display a static image of the NFT within the app. Users can watch the video or GIF by clicking through the 'See .ore' button that will redirect the users to the OpenSea listings. Spotify mentioned that the NFT galleries test is in response to the requests from its industry partners.
Digital platforms experimenting with Non-fungible tokens
Spotify is not the first platform to dive into the NFTs world recently Instagram has started integrating NFTs into its platforms that have allowed users to share their NFTs in Feed, Stories, or in messages. Mark Zuckerberg has also confirmed that the same feature would be introduced on Facebook as well. Instagram isn't charging users for sharing NFTs on their profile and the same is the case with Spotify, it won't collect a commission for any NFT sales made through the app and is just testing the integration.
Read more: Spotify is Now Testing a TikTok-Like Personalized Feed on the App's Home Screen