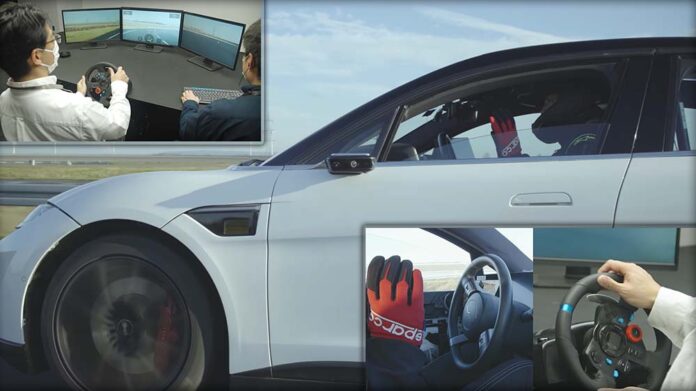 In the recent news, Japanese tech giant, Sony has partnered with Vodafone to give life to the saying 'look ma, no hands' and road-tested the Vision-S 01 electric vehicle sedan concept on a testing track in Germany managed remotely from Japan. The experience appeared identical to a car video game; except now, it's reality.
Sony's New Electric Vehicle Sedan Can Be Remote Controlled 
The smartphone maker has adopted the trend for EVs and is now displaying and testing the capabilities of its high-tech electric vehicle sedan. The Vision-S 01 was successfully remote-controlled from Tokyo on a 5G link and was operated on a custom-built circuit in Aldenhoven, 9,363 km away. The test driver in Tokyo sat at his desk with a three-monitor arrangement and was able to get the EV up to speeds of 61 km/h with an accelerator pedal from what seems to be a gaming steering wheel structure.
Read more: Government Proposes to Replace Motorcycle Rickshaws with Electric Bikes
Furthermore, the said video displays that there are no hands on the steering wheel of Sony's electric vehicle sedan concept, Vision-S 01 but this does not render the Vision-S 01 autonomous. A driver was placed inside the zero-emission automobile as a precaution in case of an accident. Sony emphasized that the Vision-S 01's built-in telematics system enabled video and control signals to be delivered with minimal latency.
Sony is Working to Create a Mobility Experience with a Fusion of Real and Virtual
The unique test on Sony's electric vehicle sedan is part of a study to create codec and rate control technology that will help the steady transmission of large amounts of video data in real-time. The outstanding demonstration places Sony's Remote Play feature on the next level after being presented for its PlayStation consoles a long time ago. For now, the company also claims to be designing a "completely new mobility experience, such as a fusion of real and virtual".
When Sony revealed the electric vehicle sedan, Vision-S 02 SUV idea at the consumer electronics show (CES) 2022 earlier this month, it also declared the creation of a new 'Sony Mobility' firm for a possible entry into the EV market in spring. So, it might be possible that Vision-S 01 will be produced as well.
Source: Pro Pakistani