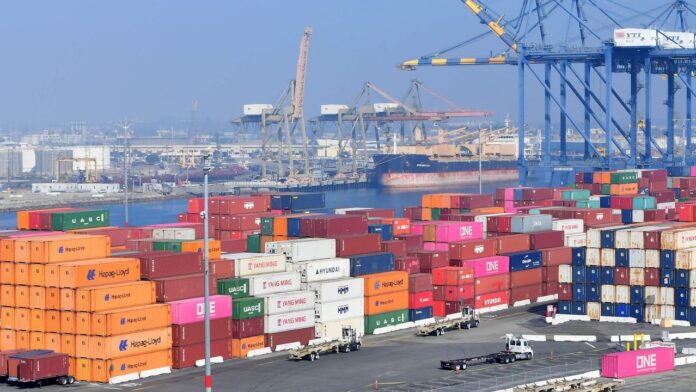 The importers have claimed that the State Bank of Pakistan(SBP) is making them pay $10,000 in demurrages while refusing to clear even half of them in the invoices for the same shipment. The viral video of enraged importers circulated on the internet, where they were seen urging the central bank to make necessary arrangements to release their shipments.
He has a valid point.
This new import permission from SBP is damaging local businesses.
You want to restrict the dollar flow by holding containers at the port and forcing importers to pay demurrage charges to foreign shipping companies.
What is the logic behind it? pic.twitter.com/b1q2w58nK0

— Zulfiqar Ahmed 🤔 (@ZulfiqarAhmed69) January 17, 2023
Enraged Importers Were Seen Convincing Bank Staff to Clear their Dollar Payments
The SBP has stopped many containers at the port due to the unavailability of dollars, and likewise, people are also protesting against the non-opening of LCs, which has put added pressure on the importers' fraternity. The viral video from a local bank at Shah Alam Market, Lahore, witnessed importers convincing the bank staff at counters to clear their payments as the containers carrying their shipments have been stranded at port terminals for more than three months. On the other hand, the central bank governor has claimed that the country's critically low foreign exchange reserves would start to improve as dollar inflows are expected from next week.
What are the Importers Saying?
An importer was seen criticizing SBP in the video, where he urged the central bank to think about the country's economy, as factories are already closing due to the unfavorable business environment within the country. While explaining the whole situation, he said, "We have written to the SBP to send our payments after 365 days; we are willing to sign an affidavit stating that we will not send money abroad for the next two years. Despite all the assurances from the importers, why is the central bank making our lives difficult?"
He further mentioned that the invoice for one container is $5,000 with a demurrage of $10,000; he questioned the bank, saying why they are forcing importers to pay $10,000 in demurrage charges rather than clearing an invoice of $5000. In his words, "What's the logic of all this?" He talked about Pakistan's business environment, saying, "Each importer represents thousands of shops where a huge labor force is employed. The factories have already been shut down; now, is the government planning to close shops as well?"
Also read: Traders Protest Outside the State Bank of Pakistan for Not Opening LCs