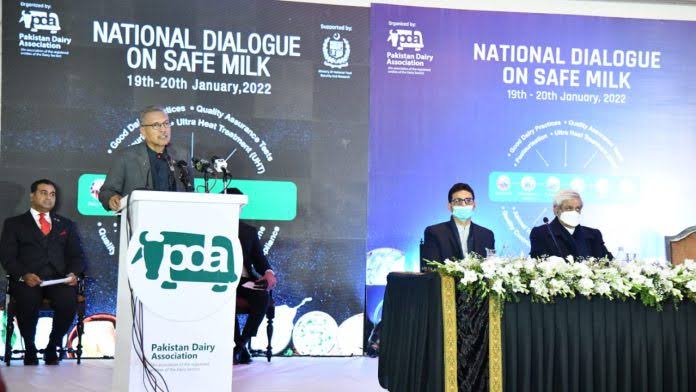 Addressing the inaugural session of the first National Dialogue on Safe Milk, President Dr Arif Alvi urged to take advantage of the latest technologies to enhance the production of safe milk to help prevent stunting and malnutrition.
Read more: Pakistan should Jump on the Technology Bandwagon to Unleash its Tech Potential: Arif Alvi
Pakistan is the third-largest milk-producing country
President stressed that Pakistan is the third-largest milk-producing country that could improve the yield of milk using modern methods. Pakistan could also bring about remarkable change by formalizing the dairy sector and addressing the challenges of the supply chain. Dr Alvi said awareness among the people on the safety and significance of milk was essential to make them switch from loose milk to packaged milk. He hoped that the two-day dialogue would come up with proposals that would also mobilize the government to act in this area.
Chairman of Punjab Food Authority Omar Tanvir said the government, in consultation with all stakeholders, would have to come up with a plan to ensure the provision of safe milk to the people. He said the authorities concerned had so far been unable to convince the people that loose milk was unhealthy and unsafe for consumption.
The technology used around the world for the production of safe milk
Here are some of the technologies used to ensure the safe production of milk:
Somadetect: The company produces a sensor for quality control check that attaches directly to the milking line. As milk passes through the sensor, a beam of light shoots out. The light hits small particles in the fluid that cause it to change direction and scatter.
Agrivida: The company has developed a feed product that it calls GRAINZYME that takes the enzymes normally added to feed and grows them inside a kernel of corn. That helps the animals get more nutrition with the same amount of feed, boosting the bottom line by producing more milk or eggs.
Source: Pro Pakistani