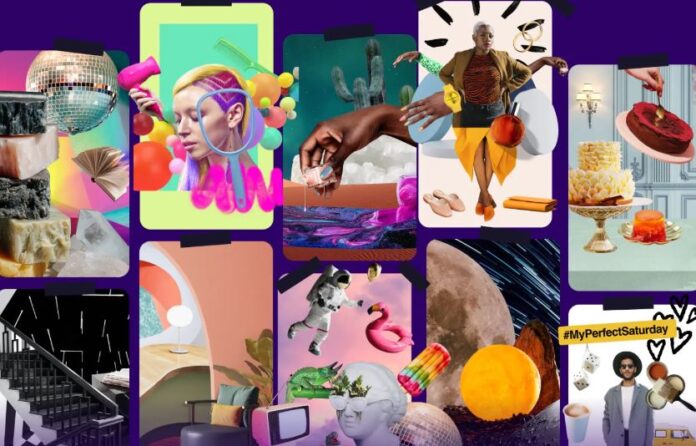 Pinterest's recently launched collage-maker 'Shuffles' has been climbing up the App Store's Top Charts and its mood boards are going viral on TikTok thanks to the demand from Gen Z users who are leveraging the new creative expression tool to make, publish and share visual content. These "aesthetic" collages are then set to music and posted to TikTok or shared privately with friends or with the broader collage-maker Shuffles community.
Collage-Maker 'Shuffles' Has Stayed No.1 Lifestyle App on US App Store
Despite being in invite-only status, the collage-maker, Shuffles has already spent some time as the No. 1 Lifestyle app on the U.S. App Store. During the week of August 15-22, 2022, Shuffles ranked No. 5 in the Top Lifestyle Apps by downloads on iPhone in the U.S., according to metrics provided by app intelligence firm data.ai — an increase of 72 places in the rankings compared to the week prior. 
The collage-maker was the No. 1 Lifestyle app on iPhone by Sunday, August 21st, and broke into the Top 20 non-gaming apps on iOS as a whole in the U.S. that same day, after jumping up 22 ranks from the day prior. Additionally, the firm Sensor Tower found the app is now No. 66 Overall on the U.S. iPhone App Store and is the No. 1 Overall app in Ireland, New Zealand, and the U.K. It's No. 2 Overall in Australia and No. 3 in Canada. First launched in late July 2022, Pinterest's collage-maker app has seen 211,000 iOS downloads worldwide in the month it's been live — 160,000 of those downloads were in the U.S., data.ai says. Sensor Tower, meanwhile, estimates the app has seen approximately 338,000 installs during this time. 
The App Allows Users to Build Collages Using Pinterest's Photo Library
The new app Shuffles allows users to build their own collages using Pinterest's photo library or by snapping photos of objects they want to include using the camera. One clever feature involves its use of technology, built in-house, that allows users to cut out objects from their photos, their Pinterest boards, or by searching for new Pins.
Read more: Pinterest CEO Steps Down; Google's exec Bill Ready to Take over