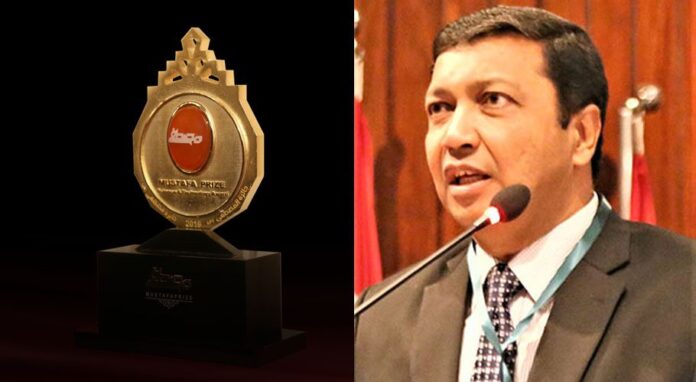 Professor Dr. Muhammad Iqbal Choudhary is named for the 2021 Mustafa Prize. The award ceremony will be held at the Mustafa Prize week this year, where at least 50 scientists and scholars from 15 countries will attend the event. The Mustafa Prize award was introduced in 2012 that is given every two years to top researchers and scientists from Muslim countries in four categories namely; Life and Medical Science and Technology, Nanoscience and Nanotechnology, Information and Communication Science and Technology, and all areas of science and technology. According to the Mustafa Prize website, Five scientists from Pakistan, Iran, Bangladesh, Lebanon, and Morocco have been awarded the 2021 Mustafa Prize in their respective fields of study. The laureates in each category will be awarded $500,000, a medal, and a certificate.
Read more: In Huawei ICT competition 2019-2020-Pakistan wins First and Third prize
The Mustafa Prize Award laureate – Professor Dr. Muhammad Iqbal Choudhary
Prof Dr. Iqbal Choudhary, the director of the International Centre for Chemical and Biological Sciences at the University of Karachi is an eminent medicinal chemist who has published 1,175 research papers in organic and bioorganic chemistry in international journals, authored 76 books, and contributed 40 chapters in books published by the major US and European presses. His work has been cited 27,407 times by international researchers, around 94 local and international scholars have completed their Ph.D. degrees under his supervision.
The government of Pakistan has awarded Dr. Iqbal with the Hilal-e-Imtiaz, Sitara-e-Imtiaz, and Tamgha-e-Imtiaz. He was also honored by the president of Iran with the Khwarizmi International Award, the President of Azerbaijan with the ECO Award in Education, and the prime minister of Pakistan with the COMSTECH Award in Chemistry. In 2914, the higher education commission gave him the prestigious title of distinguished national professor.
Another Pakistani won Ramon Magsaysay – an Asian equivalent of the Nobel Prize
Muhammad Amjad Saqib, the microfinance pioneer from Pakistan, won the Ramon Magsaysay Award – An award to honor people and groups tackling development problems. The PM.of Pakistan congratulated him for achieving Asia's highest honor; "We are proud of his achievement as we move forward in creating a welfare state based on Riyasat-e-Madina Model."
Source: Dawn