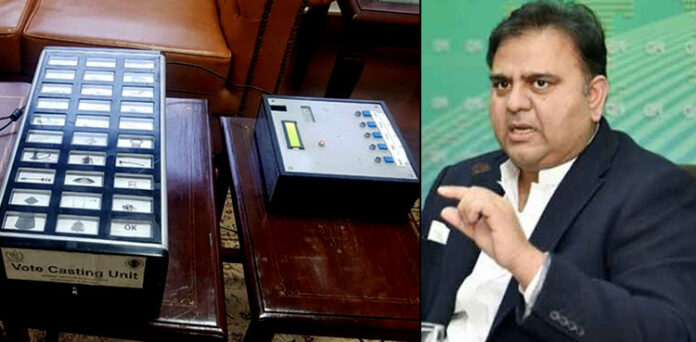 To bring in more transparency in the next general elections, the government has taken an initiative to develop an e-voting machine in accordance with our Prime Minister Imran Khan. The Ministry of Science and Technology has played an active role in developing technology for the betterment of the country.
Moreover, the Federal Minister for Science and Technology Fawad Chaudhary has briefed about the machine's features and its operation, stating that the machine entails two parts; one represents the election symbols whereas the second part will be with the supervising officer.
The machine was developed by the National Institute of Electronics, an autonomous organization under the directions of the Ministry of Science and Technology.
Fawad Chaudhry also spoke about the progress of the electronic voting machine, as it is in the final stages and will be effectively shared with the National Database Registration Authority, National University of Science and Technology, and COMSATS in due time.
Read more: YouTube's AI Algorithm misinterpret the "black and white" chess comments with racism
Furthermore, the minister also mentioned that the ballot paper can also be printed through a machine besides vote casting. "Not only electric vote casting can be done through the machine but also ballot paper can be printed", he said.
Previously, our Prime Minister Imran Khan had announced in November 2020 that his government is working on introducing e-voting in Pakistan to initiate a transparent election process. The PM had also placed a specific committee consisting of Azam Swati and Shafqat Mehmood to introduce electoral reforms.
This new implementation can help to eradicate issues such as rigging and conduct fair elections. 
"Ministry of Science and Technology and the National Institute of Electronics had done a great job by developing such a machine," he appreciated, adding that the machine has been developed in accordance with Prime Minister Imran Khan to establish impartial and transparent elections.
Source: Ary News