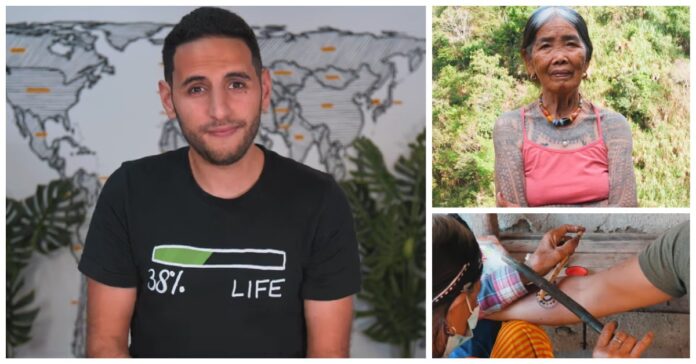 Online content creator Nuseir Yassin, who runs the Facebook page Nas Daily, has taken down the online course starring tattoo master, Apo Whang-Od after her grand-niece called it out for being a "scam."
Whang-Od is known as one of the oldest "mambabatok" – a traditional tattoo artist – from the Butbut tribe of Buscalan, Kalinga. She is recognized by the National Commission for Culture and the Arts as someone who has the right to be honoured for her contributions to the Filipino culture and indigenous practice of tattooing.
Nuseir Yassin, known as Nas Daily, rose to social media fame by creating informative one-minute travel videos. The vlogger later opened Nas Academy which features multiple virtual courses including some taught by Filipino professionals such as Miss Universe 2018 Catriona Gray who will be teaching "How To Be A Queen", designer Michael Cinco who will be teaching about fashion, and reporter Jessica Soho who will be teaching about broadcast journalism. But it appeared that the tattoo artist's granddaughter, Gracia Palicas, found something wrong in the case of Whang-Od.
"WARNING! Whang Od Academy is a scam," Gracia Palicas wrote on a public Facebook group. "Some people are taking advantage of our culture. Please help us stop this disrespect to the legacy of Apo Whang-Od and the Burbot tribe," she further added.
Palicas said that her grandmother was not aware of any contract related to the course, she wrote; "I spoke to her (Whang-Od) and she said she did not understand what the translators were saying. Am sorry to tell you she will not be joining the Nas Daily. Our village concern is that some people are profiting and exploiting our art and culture."
Nas Academy's take on the matter
In response, Nas Academy released a statement on 5th August explaining how they approached Whang-Od and acquired permission from her and her family to create the online tattooing course. They also released a video on August 5, showing Kalinga tattoo artist Whang-Od signing a contract consenting to the platform's "Whang-Od Academy."
The statement from Nas Academy reads; "We approached Whang-Od because just like you, we love her. We love her traditions and are inspired by her. We wanted to share her culture for future generations to appreciate and respect the ancient Kalinga tradition of mambabatok. So we pitched her family the idea of creating Whang-Od Academy. She and her family present both loved this idea, and have worked WITH US to build it, with Whang-Od teaching herself."
They further claimed that Whang-Od's niece, Estella Palangdao, translated the project contract, and was present when the artist placed her thumbprint on it. They also included a video of the evident contract signing in their statement. The Academy claims that everyone involved was compensated and they also took the course out of respect for her family.
Nas Daily accused of rude behaviour
Matters got worse for Yassin, with another set of accusations coming from The Cacao Project founder Louise Mabulo, who said that the content creator only cared about clickable content, and insulted the farmers. The Cacao Project provide farmers with cacao plant seedlings and teach them how to produce cacao responsibly, to create a more sustainable livelihood for Filipino farmers.
She shared her experience of working with Nas Daily; "He said no one wants to hear about farmers or farms, it's not clickable viewable content. He didn't care about making a change or shedding light on real issues— he only wanted content, a good, easy story to tell that would get him more Filipino views."
Another internet personality, Project Nightfall's, Agon Hare, commented on the post that he was present during Nas Daily's coverage of The Cacao Project. He said that they had filmed videos of dying cocoa trees and that the whole project was a failure.
The development comes after Nas Academy took down a course led by Filipino traditional tattoo artist Apo Whang-Od after the platform was deemed a scam. Netzines suggested that Filipinos should stop patronizing Nas by unfollowing him on his social media accounts.
Nas Daily followers plunged
From August 4 – the day that Whang Od's grand-niece called the inclusion of a Whang Od course in Yassin's online learning platform Nas Academy a "scam" – to August 6, about 306,900 users have unfollowed the page, according to a Facebook analytics tool. The majority of unfollows came from August 5 at 275,200. The page drops from 20.96 million followers a week ago to 20.68 million.
Earlier in May, Nas Daily followers dropped from 38 million to 20 million because he called the dispute between Israelis and Palestinians a conflict instead of oppression. His stance didn't go down well with the people who used to appreciate his one-minute videos that resulted in a tremendous loss of life followers.
Read More: Nas Daily followers dropped to 20 million from 38 million for refusing to speak up for Palestinians