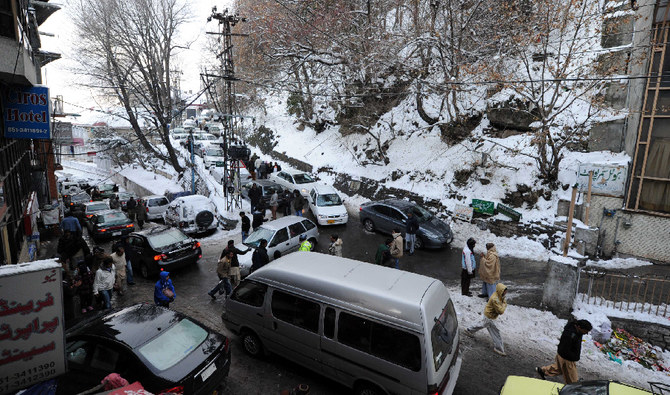 The Murree administration has now devised a comprehensive plan to handle the tourist influx on Eid-ul-Fitr. Previously, as many as 22 people had died in their cars after getting trapped in snow in the hill station three months ago. After the catastrophe, an inquiry committee discovered negligence on the part of administrators and government bureaus. As a result, 15 senior officers, including the Rawalpindi commissioner, the deputy commissioner, and the city police officer, were dismissed.
The New Plan Will Handle Tourist Influx During the Forecasted Rains and Gusty Winds 
Furthermore, the committee had also given its suggestions for devising Murree's infrastructure and managing the tourist influx efficiently. Although the weather this time is different from that in January, the Met Office has forecasted rains with gusty winds from May 2 to 5 during the holidays of Eid-ul-Fitr. The Murree administration has, therefore, stepped up its efforts to ensure that the tourist influx in Murree is managed in a hassle-free way.
Moreover, a meeting was hosted in this regard with Deputy Commissioner Tahir Farooq in the chair. The meeting imposed a complete ban on the parking of automobiles at the entry and exit points of the hill station. The deputy commissioner stated the provision of facilities to tourists was a top preference, but it was the people's obligation to follow the traffic plan to avoid inconvenience.
Visitors Are Banned from Parking their Vehicles Outside Parking Lots
Special teams have, therefore, been assembled to resolve public issues. He said visitors would not be permitted to park their vehicles outside parking lots and cooking on the roadside would be prohibited to avoid any incidents. Deputy Commissioner Farooq stated that the assistant commissioner would guarantee that there was no clash between the visitors and local residents during the Eid-ul-Fitr holidays. He said desks had been established on The Mall to document complaints against hotel owners who overcharged visitors while traffic police would deploy sufficient staff to manage the flow of vehicles.
Read more: MoITT Proposes National Disaster Telecommunications Plan After the Murree Disaster