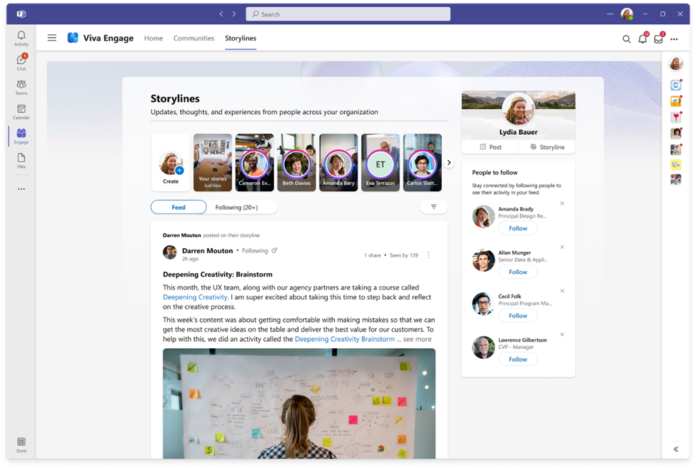 Microsoft will soon have its own Facebook-like social network called Viva Engage. According to Microsoft; "Viva Engage will continue to show the same network, home feed, and communities that you see today in Yammer. Any content created in Yammer.com or mobile – including community conversations, storyline posts, and stories – will be viewable in Viva Engage."
Viva Engage – A Facebook Replica
According to international media, the new social media platform introduced by Microsoft is a replica of Facebook, which looks exactly like a Meta-owned platform at the first glance. It has a stories section that features posts, images, videos, and other content. However, the stories don't disappear and will still be viewable by colleagues after 24 hours.
Reports suggest that the platform will debut in late August as a rebrand of the Yammer Communities app. The Viva users will be able to view two types of posts in their news feed, one which displays updates from colleagues that a user follows and the other recommended posts from across the organization. Dan Holme, product lead for Viva Engage, said; "People in an organization can follow their peers to see videos on a carousel on Viva Engage. The software will feature recommended stories from other co-workers, and users can comment or add emoji reactions."
Expectations from the Social Network
According to Dan, users will be able to record stories with high-quality PC webcams, or they can also use the Teams or Yammer apps for mobile devices. He further mentioned that it is also possible to embed PowerPoint files and stories from Instagram or TikTok but the users won't be able to share the stories from Viva to Instagram or TikTok. Furthermore, Microsoft mentions that it has much more to share soon, which we can expect in the coming weeks.
Read more: Microsoft to Integrate LinkedIn Profiles to Team Chats