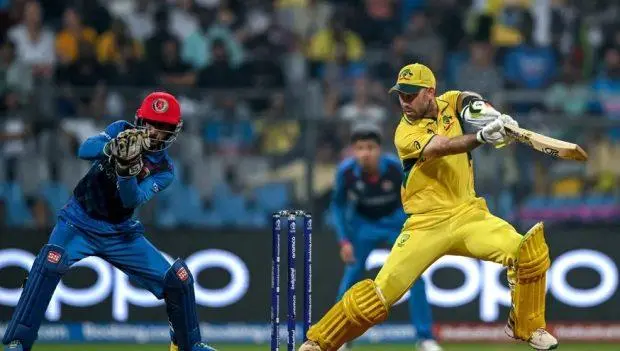 In a breathtaking display of determination and skill, Glenn Maxwell played the greatest one-day international (ODI) innings in cricket history, leading Australia to a stunning three-wicket victory over Afghanistan in the ICC Cricket World Cup 2023. Maxwell's extraordinary performance came under extreme physical strain as he battled cramps and backache. The record-breaking innings turned the match into a remarkable spectacle and secured Australia's place in the semifinals, leaving the cricketing world in awe.
Greatest ODI Innings: Maxwell's Heroic Feat
Glenn Maxwell's astonishing innings will be remembered as one of the most extraordinary moments in cricket. Despite being visibly cramped and struggling to run, Maxwell scored an astounding 201 runs. This remarkable feat not only helped Australia overcome the challenge posed by a confident Afghanistan side but also set a new record for the highest successful run-chase at the Wankhede Stadium in Mumbai.
Former New Zealand cricketer Ian Smith exclaimed in the commentary box that it was "the most remarkable thing you will ever see in cricket" as Maxwell's onslaught included a six that not only secured the win for Australia but also took his personal score beyond the 200-run mark. Even Ricky Ponting, a former Australia captain with three World Cup titles to his name, described Maxwell's performance as an innings played "on no legs," emphasizing its unparalleled nature in international cricket.
The Unstoppable Partnership
Maxwell's incredible innings was made even more extraordinary by the dire situation Australia found themselves in. After Afghanistan chose to bat first and set a target of 291-5, Australia's batting lineup crumbled to 91-7 in the 19th over. However, the 35-year-old cricketer partnered with captain Pat Cummins to put together a breathtaking 202-run stand, defying all odds and dragging their team over the finish line. Maxwell's assault included a barrage of boundaries, with 21 fours and 10 sixes in just 128 balls.
Maxwell's herculean effort stood in stark contrast to Cummins, who scored only 12 runs off 68 balls in the match-winning partnership. Afghanistan's bowlers, led by Naveen-ul-Haq, Azmatullah Omarzai, and star leg-spinner Rashid Khan, initially had the upper hand, but Maxwell's relentless aggression eventually turned the tide in Australia's favor. Captain Hashmatullah Shahidi of Afghanistan acknowledged the unbelievable result, crediting Maxwell for his remarkable innings. The thrilling contest will be remembered as one of the most extraordinary moments in World Cup history, leaving fans and experts alike in awe of Glenn Maxwell's unparalleled brilliance.
Also read: Pakistan Cricket Team Recieved a Phenomenal Welcome from Indian Airlines