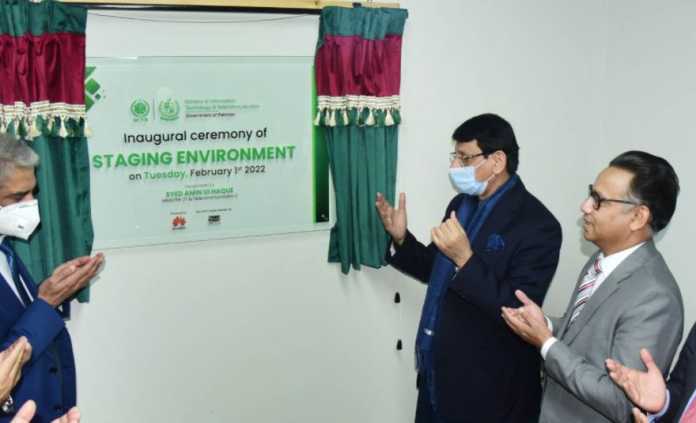 The Federal Minister for IT and Telecommunication Syed Amin Ul Haque has inaugurated the Data Center, Staging Environment, of the National Information Technology Board (NITB). While addressing the inauguration ceremony, the Federal Minister said that establishing the Data Center by the NITB is an important step that is highly appreciable.
Federal Minister for IT and Telecommunication Syed Amin Ul Haque unveiled the plaque to inaugurate National Information Technology Board (NITB) Data Center in Islamabad on 1st February 2022.#SyedAminUlHaque #MOITT #NITB #DataCenter #ITES #ICT pic.twitter.com/4kldw96v7n

— Ministry of IT & Telecom (@MoitOfficial) February 1, 2022
The data center has 500 terabyte storage
The data center, staging environment, was built for Rs. 330 million. It comprises eight data servers with a storage capacity of 500 terabytes. The minister said that this state-of-the-art Data Center will be helpful for the secure testing environment in the NITB. Testing of the websites of government institutions' and ministries', mobile applications, and web portals will be possible through this data center.
He further added that the staging environment will empower ministries to restore applications and data in the aftermath of various mishaps and revive the missing information using robust tools and technologies. While appreciating the role of NITB, the Federal Minister for IT said that the NITB formulated over 25 Web portals and 15 mobile applications and handed over these to government institutions.
Read more: Federal Government to Develop Cloud-Enabled Workforce for Public Departments
Steps underway to fulfill digital Pakistan vision
Amin Ul Haq said that the youth of the country is an asset and steps are being taken to connect the people in rural areas with the digital world. He also mentioned that the ministry is taking all possible steps to fulfill Prime Minister Imran Khan's vision of Digital Pakistan. Underlining the achievements of the federal government, the IT minister said that the leadership had increased the number of IT-related projects and a majority of the schemes would be completed soon.
Source: Pro Pakistani