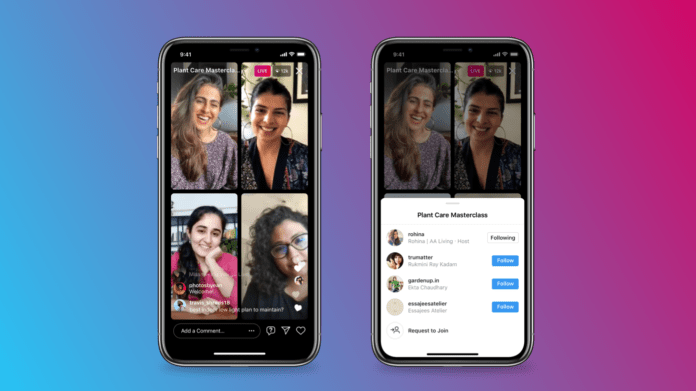 The famous social media application, Instagram now desires more people to go live at once, so on Monday, the company launched its "Live Rooms" feature. This feature is accessible by all the users around the world, it supports four people to video chat in a live broadcast, as compared to the former limit of only two people at once. Instagram's blog post states that the company hopes that this new feature will prompt people to initiate a "talk show or a podcast," host a "jam session," or partner up with other creators on the app. 
"We hope that doubling up on Live will open up more creative opportunities — start a talk show, host a jam session or co-create with other artists, host more engaging Q&As or tutorials with your following, or just hang out with more of your friends," announced Instagram in their blog post.
Read more: "First Digital Payments and Remittance Service" to be launched by Pakistani Millionaire
Head of Instagram Adam Mosseri at first just gave an idea of a possible new feature of Live Room on Sunday, tweeting that "it's a feature that has been requested for a while now." 
The latest feature Live Rooms further provides the creators even more ideas to develop a business and earn money. Instagram has recently proclaimed that Live viewers could acquire badges for their preferred creators to display their affection and admiration. With Live Rooms, viewers can buy badges for the hosts and utilize additional interactive features such as the Shopping and Live Fundraisers.
Moreover, Instagram has also informed that the people who are blocked by any of the active users in the Live Rooms will not have the choice to join again.
Furthermore, the company has announced that the Live Rooms are soon launching on both iOS and Android to all global businesses. The company anticipates the launch to touch 100% of its user base within the week.
Source: TechCrunch