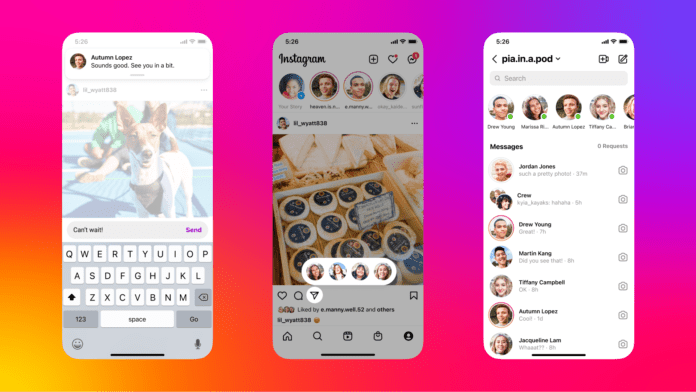 The Meta-owned photo-sharing app, Instagram, announced that it's adding a host of new features to make messaging more fun and seamless. The multiple DM features include; the ability to share music previews in DMs, the to send a message silently, see who's online to chat with, the ability to reply to messages while browsing your feed and more.
The Multiple DM features
As per Instagram, they have "made several improvements that help people respond, share, and chat." The multiple DM features are as follows:
Music sharing: Instagram will integrate with Apple Music, Amazon Music and, soon, Spotify, to allow users to share 30-second song previews in chats.
Reply while browsing: The app will allow you to reply to new messages while browsing your Feed, without having to go to the inbox and lose your place.
Quick sharing: You can now tap and hold the share button to quickly reshare posts to your closest four friends.
Status: At the top of your inbox, you can now see who's free to chat with, similar to Messenger.
Silent messages: You can opt to send messages to friends without bothering them — like when you know they're busy or asleep. To do so, you'll just have to add "@silent" to your message.
Lo-fi chat theme: The new lo-fi chat theme to make your conversations feel more personal.
Polls: You can now use the Poll sticker to create a poll directly in the group chat.
Instagram is focusing more on messages
Last year, the head of Instagram claimed that Instagram is no longer a photo-sharing app. He describes some upcoming changes and experiments that Instagram will be doing, including showing users recommendations for topics they're not following and making videos more immersive by offering a full-screen experience. Mosseri said; "Messaging is the primary way people connect online at this point. We think Instagram can be the best place for people to connect with their friends about their interests, and Instagram is to embrace the fact that messaging is that primary form of communication."
Read more: Instagram's New Collab Feature Allows Users to Co-Author Posts with their Friends
Source: Instagram Blogpost