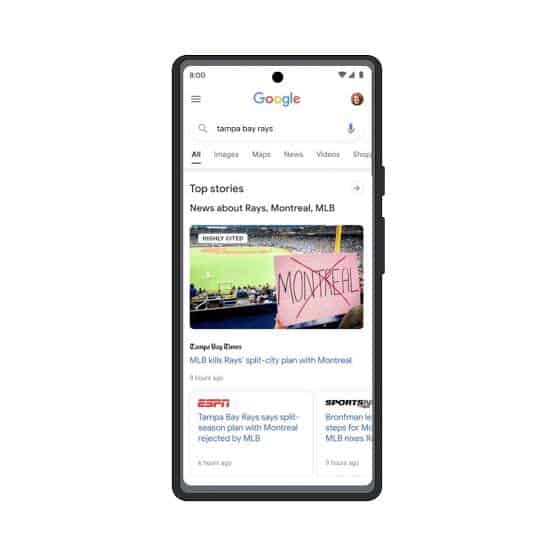 Google has rolled out new search and news features to help limit the spread of misinformation. The company has announced that it is adding a new "highly cited" label to search results for news stories. Nidhi Hebbar, Product Manager at Google, said; "This label will appear on Top Stories. You will be able to find it on anything from an investigative article, to an interview, an announcement, a press release or a local news story, as long as other publishers indicate its relevance by linking to it."
The new search and news features
Alongside the highly cited label, Google is also expanding ways to help the users critically evaluate the search results they're being shown. Google has added a "rapidly evolving topics" label to search results that include things like breaking news and viral videos that are spreading quickly. The notice is initially appearing on US-based English-language results when a topic is rapidly evolving and a range of sources hasn't yet weighed in. Google will expand the tool's presence to other markets in the coming months.
The company explains; "While Google Search will always be there with the most useful results we can provide, sometimes the reliable information you're searching for just isn't online yet. This can be particularly true for breaking news or emerging topics, when the information that's published first may not be the most reliable." Additionally, Google is also rolling out improvements to its "about this result" feature that will let you pull up information from Wikipedia about a website in your search results, making it easier to vet sites that you're not familiar with.
Limiting the spread of misinformation
The new search and news feature will encourage users to take a break and ponder over clarity on the searched topics, before re-distributing false narratives, while it could also serve as a learning tool to improve digital literacy, by underlining the dangers of trusting everything that you read online. Aside from promoting key source research, Google also hopes that it will help to elevate original reporting, making it even easier for people to discover and engage with the publishers and journalists whose work brings unique value to a story.
Read more: Facebook Rolls Out a New Set of Group Tools to Fight Misinformation
Source: Google Blog post