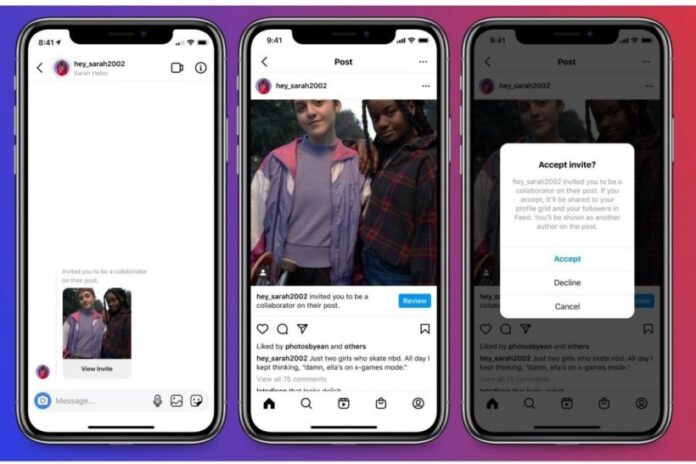 Instagram announced a new co-authoring feature, Collab, that allows two people to co-author posts and Reels. The post or Reel will appear for each user's followers and will share the same comment thread, views, likes and shares. The purpose of Instagram co-authoring feature is to specify creators who are part of a collaboration, which means that when one user uploads a post, video or reel they can tag another user who might be a part of it. Instagram is also testing a new way to include fundraisers in posts, which can be accessed by tapping the '+' icon from the layout.
Instagram Co-authoring feature comes with a twist
Although, tagging option has been available on Instagram for quite a long time this new co-authoring feature comes with a twist. The Instagram co-authoring feature will target twice the audience from one account, which means that the posts, videos or reel will be available for the audience of your collaborator's account as well. With the co-authoring feature, Instagram users can invite another account to be a collaborator on a regular post or Reel. If the other person accepts the invite, Instagram will show both accounts in the post or Reel header.
The option to invite a user to Collab is present in the tagging screen right before you upload an Instagram Reel or feed post. To begin with, you should create a feed post or Reel. When you reach the page to tag a person, tap on the "Invite Collaborator" button and type in the username of the second person in the search box to invite the collaborator.
Read more: Instagram Launches New IG Live Scheduling Tool for Live Video Creators
Instagram now allows you to post from desktop
Instagram is testing multiple features and one of them is rolling out on Thursday, which allows users to post from desktop. Instagram has previously allowed users to access the newsfeed and messages from a desktop but it had remained a phone-only app for many years. The feature can be particularly useful for businesses and videographers, who love to market their product by experimenting with top-quality gadgets.
Source: Verge