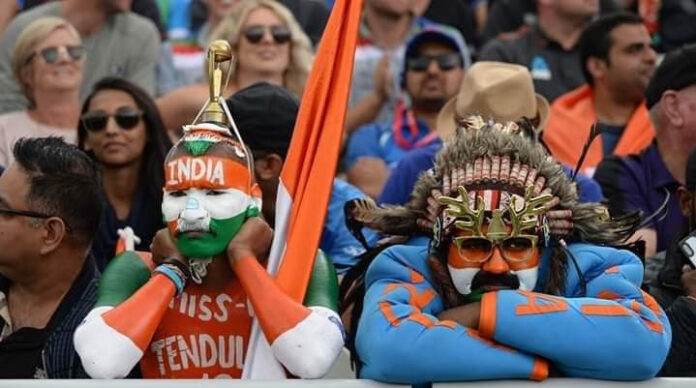 As India's WT20 campaign came to an end yesterday, the loyal and devoted Indian cricket fans, who have already purchased the $295 tickets to the final game beforehand, have to sell them at a reduced price of $150, along with free lunch and beer.
Indian Cricket Fan Selling Ticket for as Low as $10
A video of an Indian cricket fan went viral on social media who can be seen selling tickets for only $10. It is pertinent to mention here that the MCG can hold over 100000 fans and reportedly over 70000 tickets for World Twenty-20 final were bought by Indians. But, after being ousted from the final, the fans are desperately trying to sell their tickets on the streets.
Indian fans selling the tickets for the final as India couldn't qualify for the grand finale #T20WorldCup pic.twitter.com/axU2W15G27

— Mirza Iqbal Baig (@mirzaiqbal80) November 10, 2022
On Thursday, the men in blue were crushed by England team at Adelaide as the openers of the English cricket team smashed the Indian bowlers to all parts of the ground. They also ended up setting the record for the highest unbeaten 170-run partnership stand in T20 World Cup history.
The Twitter Space Session
After India's defeat, several Pakistani and Indian cricket fans joined the Twitter Space Session to express their excitement and anger, respectively. The speakers were heard using cuss words against Indian players, former cricketers, commentators, and other teams while a large number of Pakistani fans celebrated England's victory and enjoyed Indian fans' reaction in the Twitter space.
Shades of the 1992 Worldcup
Pakistan will face England at the same venue where they played the 92' WorldCup final against the same team to claim its first World Cup title in the 50-over format. The similarities between both the tournaments are as follows:
• Babar and Khan lost their opening-round games at the MCG
• Pakistan went on to win their last three games ahead of the semifinals on both occasions
• Babar and Khan had to bank heavily on the results of other games to go through to the knockout stage on the last day of the group stage.
Also read: Pakistani Cricket Fans Troll Indians After a Humiliating Semi-final Defeat