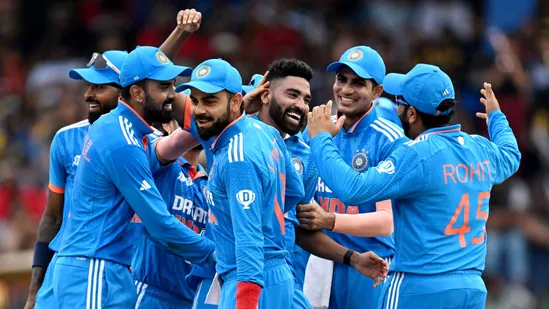 With a win against Australia, India dethroned Pakistan to become the world's No.1 ODI  team and subsequently achieved a rare feat in rankings history. With the win, India, with 116 rating points, pipped their arch-rivals Pakistan (115) to take the top spot in ICC Men's ODI Team Rankings. This victory also meant that India now held the No. 1 ranking across all formats – Tests, ODIs, and T20Is, making them the second team in men's cricketing history to achieve this milestone.
India Dethrone Pakistan to Become No.1 ODI Team
Team India had their chances during the recently concluded Asia Cup 2023 tournament, but a shock defeat to Bangladesh in the Super Four stage denied them an elusive piece of rankings history. However, with a comprehensive five-wicket win against Australia in Mohali on Friday, India dethroned Pakistan to become the new world No. 1 ranked ODI side.
Australia, who had a chance to claim the No. 1 ODI ranking themselves, slipped to the third spot with 111 points after losing to India. Their three consecutive losses to India meant they no longer stood a chance to become the No. 1 ranked side before the upcoming World Cup in India.
Historic Victory Over Australia
Mohammed Shami's career-best 5 for 51, his second five-wicket haul in ODIs, and first ever by an Indian fast bowler at home in 16 years, helped India restrict Australia to 276. Shubman Gill and Ruturaj Gaikwad then smashed a stunning 142-run opening stand, and Suryakumar Yadav contributed with a crucial fifty as India chased down the target with eight balls to spare, scripting a historic win.
Despite rising to the top spot, India still faces a threat from Pakistan, who are hoping for Australia to win the remaining two matches. A single win for India in the remaining matches would secure the series and solidify their position as the No.1-ranked ODI team as they enter the World Cup with high hopes. The competition for the top spot promises to be intense as the cricketing world eagerly watches this battle for supremacy.
Also read: Pakistan's World Cup 2023 Dreams Dashed as Naseem Shah Likely to be Ruled Out