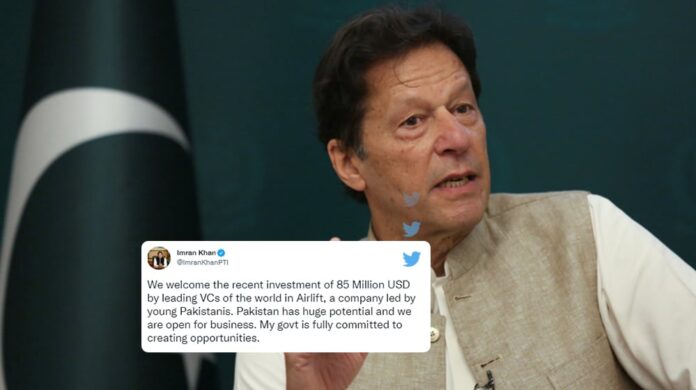 On Friday Prime Minister Imran Khan welcomed the latest $85 million foreign investment in the quick commerce startup, Airlift by leading Venture Capitals of the world. "Pakistan has huge potential and we are open for business," PM Imran Khan stated in a tweet. The prime minister further guaranteed his government's commitment towards creating such investment opportunities in Pakistan.
Thank you Prime Minister @ImranKhanPTI for calling attention to #Airlift's milestone that will pave the way for future investment in #Pakistani #startups. Onwards & upwards! #PakistanKaAirlift https://t.co/REmNL2FgmV

— AirliftTech (@airlift_tech) August 20, 2021
Airlift Raises $85 million Foreign Investment 
The quick commerce startup, Airlift, is a Lahore-based online shopping delivery service, has successfully raised $85 million foreign investment 
in Series B funding round, the largest single private funding round in Pakistan's history.
Read more: Pakistani Quick Commerce Startup 'Airlift' Raises $85 Million in Series B Funding Round
The said foreign investment is near twice the amount of the largest private company IPO in Pakistan's history and the highest in the Middle East and North Africa region. A pioneer in the latest wave of technology businesses, Airlift Technologies was inaugurated in Pakistan by local businesspeople for local residents in the recent influx of technology businesses.
Usman Buzdar Also Congratulates Airlift
Along with PM Imran Khan, the Punjab Chief Minister Usman Buzdar also commented on the success of the private firm. He said he was "glad" to share that international investors were showing confidence in Pakistan's evolving technology ecosystem.
Glad to share that global investors are showing complete confidence in the evolving technology space in Punjab and Pakistan. @airlift_tech, a completely home-grown start up of Pakistan has successfully raised 85 Million USD in their series B financing! ??

— Usman Buzdar (@UsmanAKBuzdar) August 20, 2021
The company has set a new model for bringing world-class financers to invest in Pakistan. This will collect confidence that great technology and user products can be developed in Pakistan, and this area of the world has some of the best expertise for producing practical and innovative tech advancement. Furthermore, Airlift Express alone, with its series B funding of $85 million, has added 5 percent to the country's FDI for the monetary year 2021.
Airlift's Network is Spread-Out in Eight Cities of Pakistan
Airlift runs a quick commerce service in eight cities covering Lahore, Karachi, and Islamabad in Pakistan. Customers can order groceries, farm-fresh produce, other necessary items including medicines as well as sports gear from the company's website or app and have the articles delivered within 30 minutes.
In addition to this, using the latest foreign investment, the quick commerce startup, Airlift expects to place more offerings to its services in the near future and create nearly a quarter-million more jobs in Pakistan within the next five years.