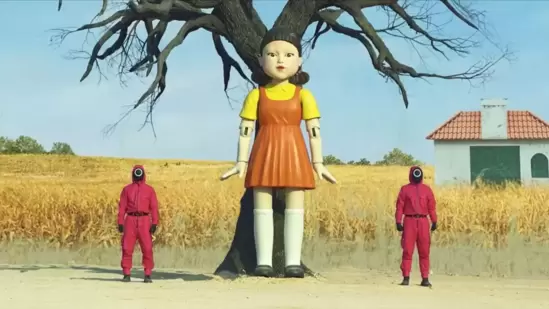 Netflix has partnered with an interactive gaming company, Immersive Gamebox, to bring a real-time Squid Game experience for their fans. The CEO of Immersive Gamebox, Will Dean, said in a statement; "People are constantly seeking new and different ways to remain invested in their favorite content. To reimagine Netflix's most popular show in an entirely new format offers customers more ways to stay connected to 'Squid Game."
How Does a Real-time Squid Game Experience Look Like?
Immersive Gamebox is turning "Squid Game" into a life-sized, interactive format that will provide a real-time Squid game experience to its users. The hour-long digital game will have you competing against friends to survive all six challenges from the show — Red Light, Green Light, Dalgona, Tug of War, Marbles, Glass Bridge and Squid Game.
According to the details disclosed to Tech Crunch, every time a player doesn't survive, he loses lives, and every time he wins, he earns money in what the company calls the piggy bank. Moreover, with 3D motion-tracking visors and touch screens, players can enjoy the experience without having to wear bulky headsets. Launching on 21st September, the Squid Game experience will be available at all Immersive Gamebox's locations across the U.S. and Europe, which include Utah, Illinois, Texas, California, Colorado, and Virginia, as well as London and three other venues in the UK.
142 Million Households Watched 'Squid Game'
According to Netflix, 142 million households worldwide watched the Korean-language show that has also claimed the number 1 spot in the streaming giant's rankings in 94 countries. As per reports from international media, Squid Game was a standout, generating $891.1 million in impact value, which is around 41.7 times its budget of $21.4 million. The publication said that Squid Game is the most-viewed new show in Netflix history.
Read more: Netflix Announces Real-life;Squid Game Competition with Biggest Cash Prize in TV History