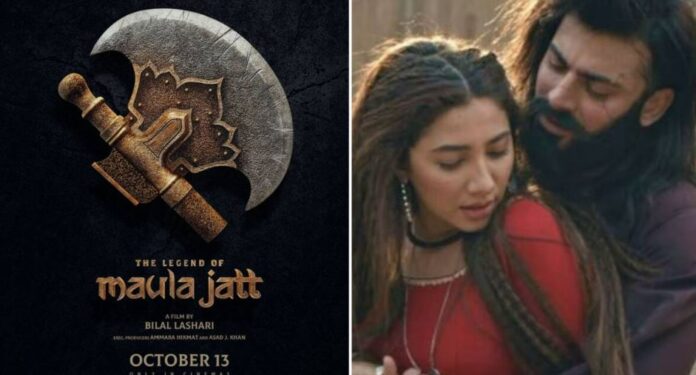 Filmmaker Bilal Lashari's much-awaited magnum opus The Legend of Maula Jatt finally has a release date. The Mahira Khan and Fawad Khan-starrer will hit cinemas on October 13, as per a press release. Both the stars are enthusiastically promoting their soon-to-be-released movie. Moreover, Fawad Khan has recently joined TikTok and posted a promotional video for his upcoming movie. 
It Has Been an Honour to Play the Role of the Legendary Maula Jatt, Says Fawad Khan
Moreover, the Maula Jatt actor, Fawad Khan stated to a news outlet, "It has been an honor to play the role of the legendry Maula Jatt. It was an absolute joy working with the team. I wish all of us the very best of luck to all and hope the audience enjoys watching the film as much as I enjoyed its making."
Mahira Khan, on the other hand, dubbed the process of working in the film a learning experience. "No matter what project I promote I'm asked about The Legend of Maula Jatt," she confessed. "This was a unique experience for me as an actor, learning to act in a language that I don't specifically know was a challenge that I enjoyed." Mahira concluded by noting that "great things happen when hard work and patience are combined."
Furthermore, produced by Ammara Hikmat under the joint venture of Encyclomedia and Lashari films in association with AAA Motion Pictures, The Legend of Maula Jatt is lauded to be the most expensive Pakistani film to date. A remake of Yunus Malik's 1979 cult classic, the Punjabi-language film that focuses on the legendary rivalry between Maula and Noori – the leader of a brutal gang.
The Film is Expected to Release in October 
After announcing the release date following almost a decade, Bilal told the outlet, "A ten-year journey of creating an impossible film will conclude this October in a cinema near you." Ammara added: "I hope this film proves to be one of those history-defining moments for South Asian cinema that it deserves."
Read more: Government Launches PTV Films, PakFlix Projects to Promote Local Content