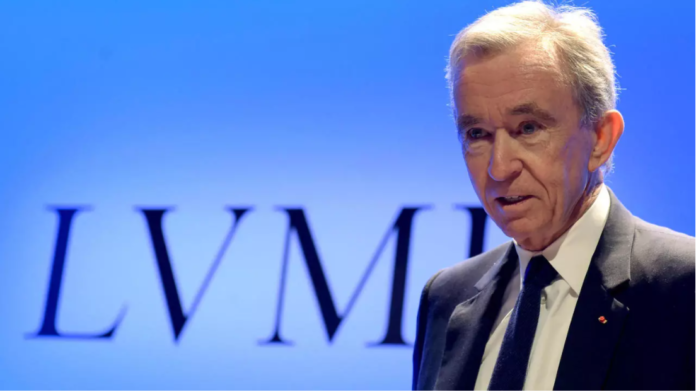 French fashion mogul, Bernard Arnault has now climbed ahead of Jeff Bezos to become the world's richest person with his estimated net worth of $186.3 billion, placing him $300 million above Jeff Bezos, the e-commerce magnate whose worth is now $186 billion, whereas Elon Musk is at $147.3 billion.
The chief executive officer of Moët Hennessy Louis Vuitton (LVMH) observed his extravagance goods firm stock increment by 0.4 percent during the first hours of trading on Monday. Arnault's wealth has leaped from $76 billion in March 2020 to $186.3 billion on Monday, a massive surge of over $110 billion in the past 14 months, due to the pandemic-defying performance by his luxury group LVMH (Louis Vuitton Moët Hennessy).
Read more: Ethereum's 27-year-old founder, Vitalik Buterin became the world's youngest crypto billionaire
Furthermore, LVMH, which also owns household labels such as Fendi, Christian Dior, and Givenchy. Over the past years, the very top of Forbes' billionaires list has been mainly dominated by Americans. The number one position has been held by U.S. nationals Bezos, Musk, Gates, and Buffett for most of the two decades, with just Mexico's Carlos Slim interrupting their dominance for any notable time. 
Read more: Elon Musk loses his title as the world's second-wealthiest person as Tesla shares fell another 2.2 percent
In addition to it, LVMH and Arnault represent the remarkable surge of Europe's leisure and fashion brands during the lockdown. Propelled by the "energy" of purchasers in China, according to Jefferies analyst Flavio Cereda, LVMH recorded revenue of $17 billion for the opening quarter of 2021, up 32 percent compared to the corresponding period in 2020.
Following the start of the pandemic, the net worth of the world's richest people has wavered wildly, with several jumping by billions. Elon Musk for a short period became the richest person in the world in January 2021, when his net worth hit $189.7 billion. That expressed an extraordinary $165 billion increase since March 2020, when he was worth $24.6 billion.
Source: Forbes