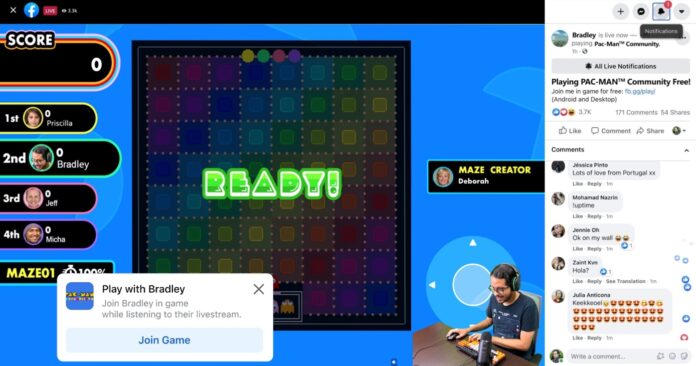 In the present times, Facebook Gaming might not be a hot streaming spot like Twitch or YouTube Gaming, however, the social media platform is steadily introducing new interactive features to increase its charm. Facebook is now launching a new layer of interactivity, called, Play with Streamer feature that allows viewers to jump into game streams with their chosen streaming characters. 
Play with Streamer Feature will Increase Interactivity Between Players and Streamers
The firm is highlighting the new Play with Streamer feature with the launch of Pac-Man Community, a variant of the classic that combines modern finishes such as multiplayer, user-generated puzzles, and viewer interactivity intending to seize a bit of the magic of something like Twitch Plays Pokémon.
Furthermore, for games with the Play with Streamer feature enabled, viewers will be able to click a button to open the game directly and take part in multiplayer mode. The game selection is incredibly short for now, limited to the new Pac-Man game and Worlds FRVR, a Minecraft clone that silently included the functionality back in August.
Facebook Gaming Currently Gives back the 100% Revenue Generated to the Creators
Moreover, game streamers have control over who receives the privilege and can dole it out as a perk to their most dedicated supporters, an essential tool for creators building and connecting with gaming-based communities. To make itself engaging as a hub beneficial to rising streamers, Facebook Gaming currently offers 100% of income to creators, however, if that arrangement seems too smart to be true, and this deal expires in 2022.
Read more: Meta Tests Built-In Bill Splitting Feature 'Split Payments' in Facebook Messenger
In addition to the Play with Streamer feature, Facebook added a co-streaming feature to allow creators to collaborate and stream at the same time. It's a feature that Twitch has had since back in 2019 in the form of "Squad Stream" and a crucial one for developing a spirited streaming system.
Since the dawn of FarmVille, Facebook has hosted a stable of casual games that share very little in common with Twitch's most well-liked titles. Whereas Facebook gaming highlights streams from games such as Fortnite and Call of Duty too, the company's emphasis on mobile-friendly HTML5 games may grant the platform unparalleled charm on the far side of hardcore gamers.
Source: TechCrunch