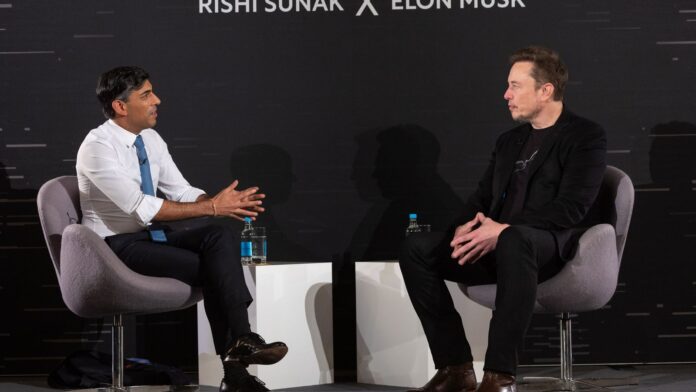 In a spellbinding conversation at the end of a recent AI summit, tech magnate Elon Musk shared a bold prediction with Prime Minister Rishi Sunak: Artificial intelligence will eventually eliminate the need for work as we know it. The 50-minute discussion covered various aspects of AI's impact on society, including the potential end of traditional employment. Elon Musk's presence at the summit initially sparked controversy with his public critique of the event on his platform, X (formerly Twitter). Nonetheless, when Musk and Sunak took the stage, they appeared to be in harmony, exchanging ideas and insights, with Sunak referring to Musk as a "brilliant innovator and technologist."
Musk's Radical Forecast
Elon Musk, a tech investor and inventor known for his involvement in AI companies and the application of AI in his driverless Tesla cars, didn't mince words. He expressed his belief that AI could make paid work redundant, highlighting a profound shift in the labor landscape. While discussing the potential benefits of AI, such as improving education and even offering AI friends, Musk stressed the disruptive nature of AI, suggesting a future where personal satisfaction, rather than necessity, might drive employment decisions.
Musk and Sunak Talks About the Futuristic World of Work
Amid these visionary ideas, Rishi Sunak acknowledged the anxiety surrounding the replacement of jobs by AI. Both Musk and Sunak agreed on the necessity for a "referee" to oversee the development and use of supercomputers in the future. Musk also raised concerns about humanoid robots, emphasizing the safety aspect and the need for responsible AI development.
While this in-depth conversation touched on numerous facets of AI, from its potential to enhance learning and social interaction to the existential questions it raises, there were no new policy announcements regarding the employment and regulation of AI in the UK.
Also read: Elon Musk's xAI Prepares for Soft Launch This Weekend