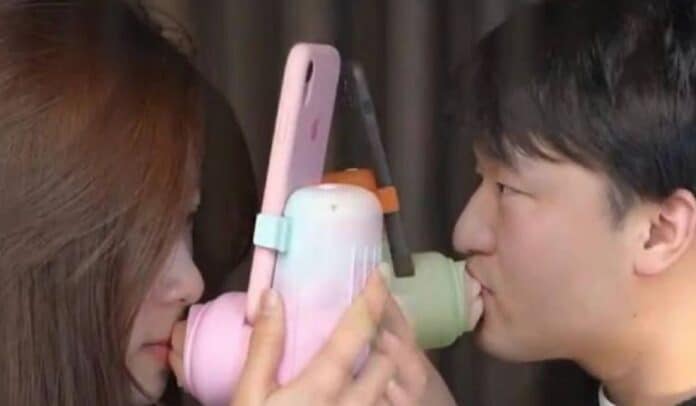 The students of a Chinese university in Changzhou city have invented a kissing device for long-distance lovers, which enables people to feel 'real intimacy' while they are far from each other. The remote kissing device with moving lips is made of silicon which simulates the pressure and heat of the lips using sensors, the device can also replicate the movement and temperature of a user's lips which is transmitted to the device of their beloved.
The Inspiration Behind the Remote Kissing Device
The inspiration for creating such a device came from a person named Jiang Zhongli who was in a long-distance relationship with his girlfriend and their communication was limited to phone calls. "In my university, I was in a long-distance relationship with my girlfriend so we only had contact with each other through the phone. That's where the inspiration of this device originated," said Jiang Zhongli. In order to overcome the challenges faced by long-distance couples, he came up with the idea of a remote kissing device that leaves netizens divided.
Some long-distance relationship lovers call it a great invention, while others dub it vulgar and creepy. According to Chinese media, the device uses a pairing mobile phone application. After downloading the app, users must insert the device into their phone's charging port to send a kiss. The couples can also begin a video conference and send replicas of their smooches to one another after partnering with their beloved ones.
An identical device – Kissinger
The Imagineering Institute in Malaysia launched a similar device in 2016 named Kissinger that comes with a touch-sensitive silicon pad, rather than real-looking lips. However, the Chinese device also allows users to pair up with strangers and exchange kisses; they can also upload kisses in the app for others to download.
Also read: Japanese Professor Develops a Lickable TV Screen that Replicates Food Flavors